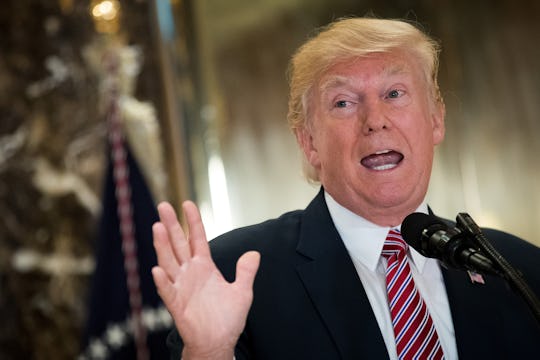 Drew Angerer/Getty Images News/Getty Images
Here's What Trump Sees When He Logs Into Twitter (Spoiler: It's Wild)
It's pretty clear that President Trump has an intense love for social media, especially Twitter. In fact, Trump's fascination with Twitter has become such an intense phenomenon, that there have been many think-pieces about the president's use of 140-character updates. But the president's handling of his social media is perhaps the most peculiar because it seems to be pretty biased. What exactly does Trump's Twitter page look like? Well, now a way you can find out. Yes, there is now a way to know what Trump sees when he logs into Twitter, and it explains so much.
As The Washington Post reported, a new Twitter account, @trumps_feed, seeks to show other Twitter users what Trump's own feed likely looks like. By retweeting tweets from the accounts Trump follows, @trumps_feed gives the public an inside look at what the president sees each time he checks Twitter. As anyone can see, the president follows just 45 accounts on Twitter, so his feed will reflect what those accounts tweet about. And, as The Washington Post uncovered,
Of the 45 accounts he follows, nine are for the Trump Organization and seven are linked to his other favorite business, Fox News.
And what do they tweet about? We took all of the tweets from those accounts this month (except the Trump Organization ones) and created a word cloud.
They tweet about Trump.
Some of the more prominent accounts Trump follows are Ivanka Trump, Donald Trump Jr., Piers Morgan, Bill O'Reilly, Ann Coulter, Sean Hannity, Kellyanne Conway, and Tucker Carlson. And, as Axios reported in May, Twitter is literally the only application President Trump has on his phone, which means he likely spends a fair amount of time seeing the tweets of his loyal compatriots, all tweeting out their unwavering support of him.
And, as most of us know, Facebook is similar for even non-presidential users. Per The Guardian, "Facebook users are increasingly sheltered from opposing viewpoints — and reliable news sources — and the viciously polarized state of our national politics appears to be one of the results." Truly, the same can be said for Twitter. So many Americans live inside a bubble, and @trumps_feed proves the same is true for our president.
The Washington Post created @trumps_feed in order to deliver an important tool for all Americans. @Trumps_feed is "an account that checks whom Trump follows every five minutes and then retweets any new tweets from them over that period," the Post wrote. "The net result is a replication of what Trump would see on those occasions that he switches over from the Mentions tab."
It's obvious that we live in a divided world right now, and it's important to open up your worldview to those with different opinions. However, if @trumps_feed is accurate in its representation of the president's Twitter feed, then the highest office in the land is still pretty biased. But seriously, if you haven't checked out @trumps_feed, you're seriously missing out.