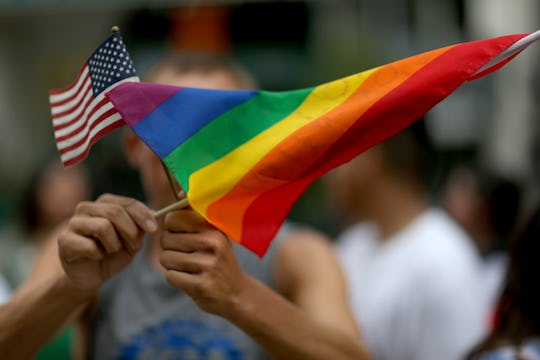 Joe Raedle/Getty Images News/Getty Images
Trump Will Reportedly Pass This Religious Order
A draft of a possible executive order to be issued by President Trump started making the rounds on Thursday morning, and it appears to outline a strict religious freedom order that could have a devastating impact on the LGBTQ community. What does Trump's LGBTQ executive order reportedly say? It is a federal religious freedom law of the kind Vice President Mike Pence passed in Indiana that led to a nationwide uproar.
A draft of the order, entitled "Establishing a Government-Wide Initiative to Respect Religious Freedom" is reportedly being handed around to federal staff, according to ABC News. A copy was initially obtained by The Nation and The Investigative Fund, and has subsequently been published to their website. According to that document, the order seeks to widen the net of what's protected under religious freedom in the U.S., and would extend to anyone "providing social services, education, or healthcare; earning a living, seeking a job, or employing others; receiving government grants or contracts; or otherwise participating in the marketplace, the public square, or interfacing with Federal, State or local governments." The broadness, then, could essentially allow the defense of religious freedom to apply to virtually anyone, including organizations and for-profit businesses. Specifically, the protections pertain to allowing businesses to keep their tax-exempt status. A representative for Trump did not immediately respond to Romper's request for comment.
The justification of religious freedom being so broadly applicable for individuals and businesses would permit them to legally discriminate based on their "religious or moral objections" to the LGBTQ community, and a wide-range of social issues for which objection is often moral or religious, such as same-sex marriage, pre-martial sex, abortion, and birth control.
Of interest, the order begins by stating that religious freedom is "guaranteed to persons of all faiths and extends to all activities of life," which is somewhat contradictory to Trump's previous temporary order that does not allow individuals from Muslim-majority countries to enter the U.S. and has jeopardized the lives of many Muslims already living here. As the order specifically seems to point topics such as abortion and the LGBTQ community, which are not rejected by all religions, it appears to be catering to the desires of specific religions: namely, Christianity and Catholicism.
The language of the order is broad enough that individuals and organizations could use religious beliefs as a means to be exempt from a staggering number of federal laws. It would effectively allow both organizations and employees of the federal government to refuse to work with members of the LGBTQ community, for one, and would also hypothetically provide a loophole through which abortions and contraception could be denied.
These exemptions are far beyond what the Supreme Court has defined as religious accommodations, so whether the order could stand in light of that remains to be seen. Though, if Trump's conservative pick for the vacant Supreme Court seat, Neil Gorsuch, were to be confirmed he would likely support it: Gorsuch has consistently ruled in favor of religious rights — even when they come into conflict with a person's right to healthcare — most notably in the Hobby Lobby case, which allowed businesses to refuse to pay for birth control under employee health plans since it violated their religious beliefs.
The order's contents certainly fall in line with the highly conservative executive orders that Trump and his administration have already made. It's unclear whether it would actually come to pass unless those extremely broad provisions are narrowed down as to not infringe on First Amendment rights and what's already been set forth by the Supreme Court. Unless, of course, the Supreme Court were to change its mind in favor of more broadly applicable religious freedom accommodations.
As we reach the two-week mark of Trump's presidency, one thing's for sure: virtually anything's possible, and although the order is still in draft form, the final product may well look very similar, sticking to its original and discriminatory intent.