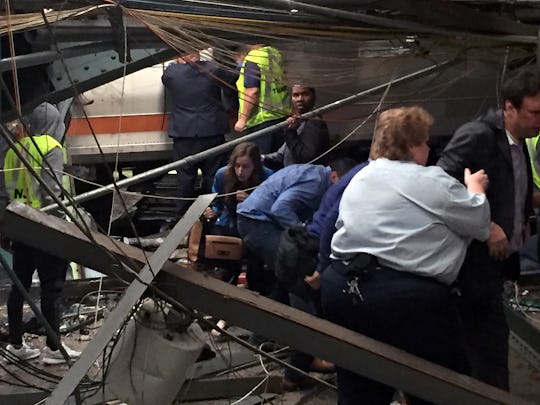 Pancho Bernasconi/Getty Images News/Getty Images
What Happened To The Conductor Of The Hoboken NJ Transit Train? He's Injured
A commuter train crashed into a crowded station just before rush hour Thursday morning, leaving dozens injured and a least one person dead. What happened to the conductor of the Hoboken N.J. transit train? According to reports, the conductor is alive, but injured.
The conductor sits at the back of the train, according to Fox News. It's the engineer who was in the lead car and had to be pulled from the train and taken to treatment to a local hospital, Fox reported. CNN spoke with a rescue official who said that train's engineer was "unresponsive" at the scene.
CNN also reported that the one person killed in the train crash was a person standing on the platform in the station when the train came barreling in.
Bhagyesh Shah was a passenger riding in the back part of the first train car and said it was like the train just didn't slow down at all as it entered the Hoboken station. "The next thing I know, I'm on the floor. We are plowing through something ... and when the train came to a stop, I could see the parts of the roof on the first car and some of the debris next to me," Shah said, according to CNN.
The crash caused the roof of the Hoboken station to collapse onto commuters, sending glass, rain water, and hot electrical wires down onto the crash site, which slowed rescue efforts, according to USA Today.
For anyone concerned with whether terrorism played a role in the train crash, New Jersey Gov. Chris Christie put out a statement saying all indications are that this was an accident. "The one thing we do know," Christie's statement said, according to The Atlantic. "Is that the train was traveling at a high rate of speed."
Hoboken Mayor Dawn Zimmer also released a statement of thought and prayers and thanking the first responders for their efforts.
Investigators from the National Transportation Safety Board are interested in similarities between this incident and a 2011 train crash in the same Hoboken station, NTSB vice chairman Bella Dinh-Zarr told CNN. But, in that instance, the train hit the bumper block in Hoboken after overrunning it's stop, sending 33 passengers to the hospital with minor injuries, CNN reported.
The investigation into the 2001 crash found the engineer "failed to control the speed of the train entering the station, and that the lack of automatic breaking at the site contributed to the crash," USA Today reported.