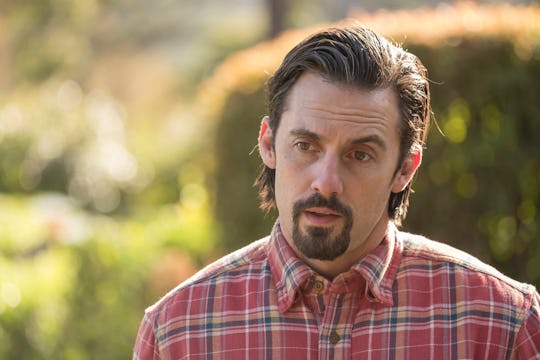 Ron Batzdorff/NBC
Here's What The Reveal Of Jack's Death Could Mean For 'This Is Us'
Even though Jack is arguably one of the best dads, husbands, and friends that's ever been on TV, somehow we as fans have been looking forward to seeing his on-screen death. It's been the big mystery of the series thus far and with all of the little clues leading up to it, naturally viewers have been theorizing how, when, and why it happens. But what happens after Jack's death is revealed on This Is Us? The show just wouldn't be the same without Milo Ventimiglia, though something tells me that we won't have to worry about that anytime soon.
Though it's obvious that the big reveal is coming, Ventimiglia told Entertainment Tonight during Season 1 that he'd been assured early on that despite his character eventually dying, he wouldn't have to worry about his place on the show. "Going into this show I knew that my character was always going to be past and I was OK with it," he said. "Dan Fogelman, our creator, he was like, 'Milo, you're not going anywhere.' I'm like, OK, great!'"
His co-star Mandy Moore echoed that sentiment when she spoke to People back in September 2017 about Jack's fate on This Is Us and, subsequently, Ventimiglia's as well. "Milo is No. 1 on the call sheet — he isn't going anywhere," Moore said. "He is our leader. We call him our actor department head. If you want to know what's going on in the show or have a question about something, Milo, without fail, has the answer."
Since he'll still be working on the show, it makes you wonder how the story will go from there once the past catches up to the present and Jack really is dead and gone. So far, there have been alternating scenes from the past which have shown Jack at different times in his life, during his battle with alcoholism and even the early stages of his relationship with Rebecca. There are still plenty of their stories to tell, though.
This Is Us is like a multi-generational family saga and essentially spans well over 30 years in time, so really we've only seen small moments so far of the family's past. Sometimes, the scenes of the past are meant to explain something about the characters in present-day, like Randall's anxiety, Kate's struggles with her weight, or Kevin's issues with feel neglected as a child. Other times, the memories of the past are meant to sort of coincide with present day for the characters, or parallel something they're going through as adults.
As long as they keep showing what life was like for Kevin, Kate, and Randall as kids and teenagers before Jack's death, then there's no reason they can't keep showing Jack as well. He's also been shown as a sort of vision for both of his adult sons — first, when Randall was high from accidentally consuming mushrooms and then again when Kevin was hitting rock bottom on his former high school's football field.
As the characters who are still alive in the present day universe of This Is Us go about their lives, they'll no doubt still be learning and growing from experiences. So what better way to help them do that than to think on their past memories as a family? And to do that, Jack will have to be continually shown. I'll never stop thinking back to certain pivotal events from my past, and neither will the adult Pearson kids on This Is Us, which means that despite showing his death, Jack will still be around in plenty of flashbacks.
Check out Romper's new video series, Romper's Doula Diaries:
Watch full episodes of Romper's Doula Diaries on Facebook Watch.