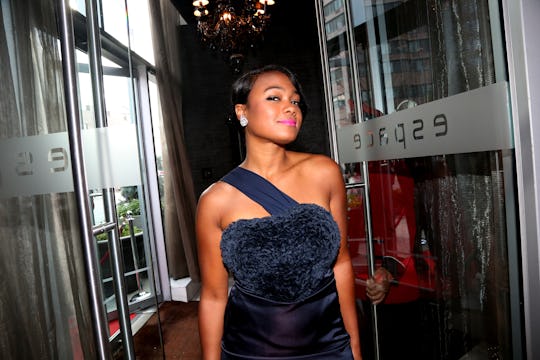 Johnny Nunez/Getty Images Entertainment/Getty Images
What Has Tatyana Ali Been Doing Recently? The 'Fresh Prince' Hasn't Slowed Down
It's been quite some time since fans last got a glimpse of the Banks family in their Bel-Air mansion on television screens 20 years ago. On Thursday, the Ashley Banks actress revealed some exciting news to Entertainment Tonight: Tatyana Ali is engaged and pregnant with her first child! The 37-year-old actress and singer shared that later this summer, she'll marry fiancé Dr. Vaughn Rasberry, a Fulbright scholar and assistant professor of English at Stanford University. Ali also told Entertainment Tonight how she met her fiancé a year and a half ago:
Vaughn and I met on eHarmony! It was my first time dating online. We wrote letters for months before we decided to Skype. And then, of course, met.
Ali's career has been anything but stagnant since The Fresh Prince of Bel-Air went off the air in 1996. Shortly after her Fresh Prince role ended, Ali recorded her first music album, Kiss the Sky: her single, "Daydreamin'" would become a '90s hit. Four years later, Ali graduated from Harvard University with her bachelor's in African-American studies and government. In an interview with The Urban Daily in 2011, Ali revealed she used to be a stepper while at Harvard. After a 15-year musical hiatus, Ali released her studio second album, Hello, in 2014.
Ali has not revealed her wedding or due dates, but the mama-to-be is already sporting a cute little pregnancy bump. It's obvious from photos the pair are over the moon with joy:
Ali didn't completely step away from television after Fresh Prince ended, either: She had a recurring role on The Young and the Restless from 2007 to 2013, as the character Devon Hamilton's love interest, Roxanne. Her work on the soap opera earned her a NAACP Image Award for Outstanding Actress in 2011. Ali has also starred as the character Maya since 2013 on the BET comedy, Second Generation Wayans.
Ali has managed to successfully shake the persona of entitled teenager Ashley Banks. The actress is an outspoken advocate for social justice and women's empowerment. In a 2015 interview with Vixen, Ali said that "Empowerment was like water for me when I was younger." She's been a partner to Boys and Girls clubs across the nation, and also works with the Peace Corps. Ali's Twitter feed of late has been a mix of commentary about #OscarsSoWhite, #JusticeForFlint, feminist literature, and condemnation of GOP presidential hopeful Donald Trump's hateful rhetoric.
Her political statements should come as no surprise: Ali campaigned extensively across the country for then-Illinois Sen. Barack Obama's presidential campaign in 2008, and again for Obama's 2012 reelection bid. In an impassioned editorial titled "What Hurts My Sister, Hurts Me" for Essence Magazine in 2012, Ali wrote:
We have sisters out there who have no idea that their rights and opportunities are in great jeopardy. They are low-income and they are the primary targets of these policies. They are working as hard as they can to put food on the table and to care for themselves and their families the best that they know how. I know this because I have met many while going door to door to register new voters. I have been inside their homes and on their porches, educating them with other Obama Campaign volunteers sharing what I know so that my own freedoms will not be taken away.
Ali has hired celebrity wedding planner Michael Russo for the couple's forthcoming summer nuptials.