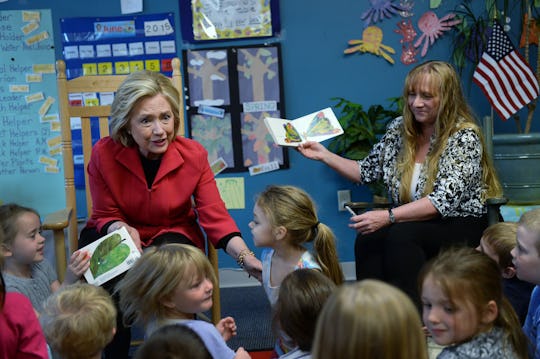 Darren McCollester/Getty Images News/Getty Images
What Is Hillary Clinton's Preschool Policy? She Wants Universal Access For America's Kids
Former Secretary of State Hillary Clinton has dedicated a significant amount of her high-profile career, starting with her time at Yale Law School, to early childhood development. As president, Clinton promises to overhaul the child care system with a package of proposals that promise to cap the cost of child care at 10 percent of a family's income, while investing in programs that boost the quality of that care. What is Hillary Clinton's preschool policy? Her campaign's seven-point plan lays out her vision.
The Atlantic dubbed Clinton the first U.S. presidential candidate "whose signature issue is early childhood." As a result, Clinton's policy prescriptions to fix the nation's approach to preschool and child care are detailed and ambitious. And the mood of the country is on her side. The Atlantic reported that, according to a "nationally representative sample" of two polls, "... 90 percent of voters across both parties agreed with the statement 'The next president and Congress should work together to make quality early-childhood education more accessible and affordable to low- and middle-income families.'"
One look at the trends explains why Americans are so interested in the issue. According to The Washington Post, families with a mother who works have seen the cost of child care double over the last 30 years.
Clinton, according to her campaign's site, has a plan to lower the cost of child care while improving its quality, including:
Universal preschool for every 4-year-old over the next 10 years
Cap family spending on child care at 10 percent of income through tax credits
Provide funding for states who give child care workers a raise
Double investment in Head Start programs
Increase funding for home visits from nurses and social workers for new moms
Provide scholarships for student-parents to access quality child care
Boost funding for child care on college campuses
And while making this list a reality would inevitably require a huge investment by the government, Carmel Martin, who works on the issue for the Center for American Progress, said affordable child care is holding back millions of American families from getting ahead, according to the Washington Post:
It's a huge economic issue for American families. It's how we ensure people can go to work and be productive, and children can be in a safe, stable environment.
Clinton's opponent Donald Trump has proposed a tax deduction to help families afford the cost of child care, as opposed to a credit. A tax deduction can only take your tax bill down to $0, whereas a tax credit can actually earn families a refund. NPR reported the distinction has caused critics to accuse Trump's plan of being little more than a way for rich people to subsidize their high-priced nannies. Michael Linden from the Center for American Progress pointed out the benefit of the Trump plan for rich families in this tweet:
Regardless of which side of the issue you're on, it's good news that the cost of raising a family in America is front-and-center during this election season. Perhaps a little relief is on the way.