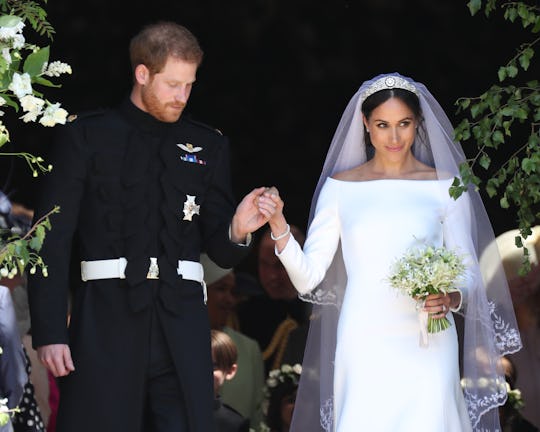 WPA Pool/Getty Images Entertainment/Getty Images
What Is Meghan Markle's 'Something Old' At The Royal Wedding? She Had Plenty Of Family Heirlooms To Choose From
Meghan Markle's wedding day finally arrived (I hear some other guy was there, too), and as fans of Windsor pomp and pageantry settled in for the big event, some folks were bound to be wondering: what was Meghan Markle's "something old" at the royal wedding? Given the longstanding traditions of marrying into a royal family, she had plenty of options.
While grooms at royal weddings typically wear their service uniforms, brides have a host of royal trinkets to choose from when accessorizing their custom gowns. We already know that Markle's engagement ring contained two diamonds from Princess Diana's personal collection, so that could have counted as her "something old." Another nod to Harry's late mother was Markle's long veil, which evoked Princess Diana's iconic wedding gown train. It was five meters long and embroidered along the edge with flowers from each of the 53 countries of the Commonwealth of England. A California poppy, the state flower from Markle's home state, was also embroidered on the veil.
The likelihood that Markle would wear pieces of Princess Diana's as part of the something old, something new, something borrowed, something blue tradition was always high, according to royal expert Katie Nicholl. "Harry made sure Diana wasn't forgotten on the day of his engagement," she told Express in a interview last month, predicting at the time, "I think there's every possibility that Meghan might wear a piece from Diana's jewelry collection on her wedding day."
Another popular theory, according to Harper's Bazaar, was that Meghan would have a swatch of Princess Diana's wedding dress sewn into her own gown as her "something old," but that turned out not to be the case. Her off-the-shoulder dress was designed by Givenchy's Clare Waight Keller, and mimicked Kate Middleton's in its simplicity. It was completely unadorned, making it what Princess Diana's dress designer called "a really solid fashion statement," according to People. The gown's silhouette did all the talking but still honored the traditional modesty royal wedding gowns are required to have.
One other "something old" Markle wore on her wedding day was her wedding band, which was fashioned from Welsh gold gifted to her by the Queen. According to People, the Windsor family has an old stash of the precious metal from which every royal wedding band has been crafted dating back to the Queen Mother's wedding in 1923. Queen Elizabeth, Princess Margaret, Princess Anne, Princess Diana, Prince Charles, and Camilla, Duchess of Cornwall all have Welsh gold rings made from the hoard. (Harry broke tradition here himself with his own band, which is made of platinum with a textured finish.)
Then, there's Markle's tiara, the Queen Mary Diamond Bandeau, which belonged to Prince Harry's great-grandmother and certainly counts as something old, too. It was fashioned by London jeweler Garrard and purchased by Queen Mary in 1932. Queen Elizabeth lent the tiara to Markle from her private collection. The art-deco style band is made of platinum and diamonds and it looks refreshingly modern in comparison to Kate Middleton and Princess Diana's more ornate wedding tiara styles.
In truth, with the rich history behind the various royal jewelry collections, any baubles could have been used as Markle's something old, something borrowed, or even something blue interchangeably. Of course, Meghan got to wear some jewelry unique to her, too. Her white gold and diamond earrings and matching bracelet, for example, are Cartier and her own personal touches. Ultimately, she sparkled in a mix of old, new, and borrowed pieces that paid homage to some pretty powerful matriarchs in history. Her look is sure to go down as a classic, too.