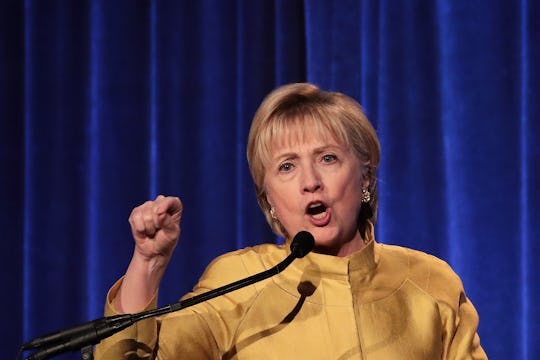 Drew Angerer/Getty Images News/Getty Images
Hillary Clinton To Launch New Political Group
She's not politicking and making policy from inside the White House as she (and many others) had hoped and expected, but Hillary Clinton isn't giving up on the United States, either. Instead, six months after her stunning presidential loss to now-President Donald Trump, she's brushing herself off and moving on. On Wednesday, Politico reported that the former secretary of state may launch her new political group, Onward Together, "as soon as next week." But in a fractured political landscape that has the Democratic party rebuilding after its devastating November, what exactly is Onward Together, and how will it help to champion progressive causes?
Details about what the group will do are still somewhat scant as Clinton and her team recruit members for its board of directors and secure donations. But it's clear that it will operate in response to Trump, just as much (perhaps too much) as her campaign did. To that end, funding other groups that are working to oppose the president's agenda will reportedly be among the group's primary priorities, according to Politico. So, Hillary Clinton is officially back, and, as she told CNN's Christiane Amanpour in an interview this week, she's once again "an activist citizen, and part of the resistance."
The name Onward Together references Clinton's campaign slogan, Stronger Together. But her work as a private citizen will likely be a far cry from the actual work of running for president, as well as what being the president would have encompassed. Instead of returning to the White House not as the first lady but as the commander-in-chief, Clinton announced in February that she would release a book of personal essays, including reflections on her election loss, on Sept. 26. The book's title is not yet publicly known.
In the interview with Amanpour, Clinton said that she would have won the election if it had not been for her own personal series of unfortunate events that she said changed the trajectory of the election: the release of her campaign chairman's emails on WikiLeaks and FBI Director James Comey's eleventh hour public announcement that the bureau was reopening its investigation into her use of a private email server as secretary of state.
As frustrating as both of those incidents surely were for Clinton and her campaign team, the entire election is in the past. The only option now is to continue onward — and given the title of her new organization, that's exactly what she intends to do.