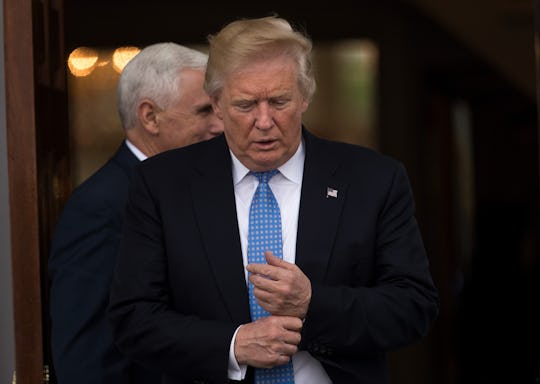 Drew Angerer/Getty Images News/Getty Images
What Is "Self-Dealing" In Business? Trump's Foundation Has Prompted Questions
Donald Trump devoted some of the ample airtime of his presidential campaign condemning his opponent, Hillary Clinton, over suspicions that donors to her charitable foundation had contributed only to curry favor with her while she was secretary of state. Now, Trump, having defeated Clinton, is enmeshed in his own series of financial controversies related to the conflicts of interest stemming from the entanglements of his massive, international business empire, as well as the most recent confirmation that he engaged in illegal self-dealing from the Trump Foundation, his own charity. But what is self-dealing and why is it so problematic?
"Self-dealing" is exactly as nefarious as the term sounds — and there is now proof that the man who will become our next president has reportedly habitually engaged in it. Essentially, the legal prohibitions against self-dealing bar nonprofit leaders from allocating funds from their charities for personal enrichment or to benefit their own businesses or families. And what's apparently a duplicate of 2015 IRS tax filings for the Donald J. Trump Foundation reportedly corroborates The Washington Post's extensive reporting throughout the election cycle that Trump has done just that — using money meant to help others to allegedly purchase a life-size painting of himself for $20,000 and settling various lawsuits that were also unflattering to Trump's image.
The Trump Foundation's law firm uploaded the damning filing — which is believed to be identical to the one submitted to the IRS, although that's unconfirmed — to the nonprofit-tracking website GuideStar late Monday. In it, there's a "yes" marked by two crucial questions: whether the foundation had transferred assets to a "disqualified" person, and whether it had done so in previous years, as well.
No other information is available, and a spokesperson for the Trump Organization did not immediately provide a comment. The "disqualified person" was likely Trump himself, or a family member.
According to the tireless reporting of the Post's David Farenthold, Trump's missteps in this area were many, including the time in 2013 that the foundation contributed $25,000 to help re-elect Florida's Republican attorney general Pam Bondi, who then ultimately decided not to investigate fraud allegation against Trump University, and when he donated to a Florida charity in 2006, reportedly to settle a lawsuit there.
So, that's what self-dealing looks like: using other's people's money in place of your own to ensure desirable outcomes or to feed your ego by using it to purchase paintings of yourself. According to the IRS, it's also considered self-dealing when a disqualified person and a private foundation engage in the sale, exchange, or leasing of property; lend money or provide goods, services, or facilities; pay the disqualified person; or agree to make payments to government officials. Trump could be required to repay the money given to charities on his foundation's behalf if it's determined that he did break the law.
For now, the New York attorney general has been investigating such accusations since October, before Trump gained the title of president-elect. Considering all of the time that Trump spend attacking Clinton's for his perception that she committed similar transgressions, it seems that he has some serious soul-searching of his own to do.