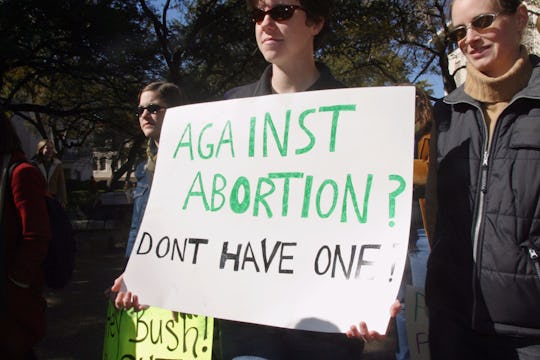 Jana Birchum/Getty Images News/Getty Images
What You Need To Know About Texas's HR 214
On Tuesday, Texas's governor signed House Bill 214, a controversial anti-abortion bill, into law, and it has caused an uproar. So, what is Texas's HR 214? Critics have dubbed it the "rape insurance" bill, according to The Austin Chronicle. So HR 214 is now effectively law in the Lone Star State.
The bill reportedly bars abortion coverage from private, state-offered, and Affordable Care Act insurance plans, and only has an exception for a "medical emergency," The Austin Chronicle reported. However, according to that publication, the bill has no exceptions for rape, incest, or fetal abnormalities.
Abbott signed the bill on Tuesday afternoon, after it was approved by the Senate in the state over the weekend, according to ThinkProgress. That outlet reported that anyone who might need an abortion will now have to pay an extra insurance premium if they want their health care plans to cover abortions performed outside of medical emergencies. Because it has no exceptions for instances of rape or incest, some opponents of the bill are calling it the "rape insurance" bill.
According to KUT 90.5, people in Texas can purchase a rider to include abortion coverage if they so choose. But that suggests that all women would know beforehand that they will need abortion coverage, which is simply not the case.
But that's especially not the case if a woman becomes pregnant as a result of rape, and, according to the National Alliance to End Sexual Violence, at least 1 to 5 percent of sexual assaults result in a pregnancy. Plus, according to the Alliance, 40 percent of pregnant women in abusive relationships report that their pregnancy was unintended, compared to 8 percent of women in non-abusive relationships. That's a lot of women who find themselves in abusive situations who might have no idea they'd ever possibly need an abortion — so why would they purchase an extra insurance rider to cover one, just in case?
Barring legal challenges to the legislation, HR 214 is law. On his website on Tuesday, Abbott released a statement about the bill, which said:
As a firm believer in Texas values I am proud to sign legislation that ensures no Texan is ever required to pay for a procedure that ends the life of an unborn child. This bill prohibits insurance providers from forcing Texas policy holders to subsidize elective abortions. I am grateful to the Texas legislature for getting this bill to my desk, and working to protect innocent life this special session.
Never mind the innocent lives that could be lost as a result of women who seek unsafe abortions because they cannot afford to or don't purchase an additional insurance premium, I suppose.
According to The Houston Press, House Republicans specifically voted against making exceptions for abortions as a result of rape, incest, or if the fetus has a severe abnormality in the bill. House Bill 214 only covers "emergency" abortions, which apparently, none of those exceptions mentioned above fit into.
In The Houston Post, Chris Turner, a Democrat representing Fort Worth, may have said it best when he said, "Women don't plan to be raped. Parents don't plan for their children to be victims of incest." Turner also said:
Asking a woman or a parent to foresee something like that and buy supplemental insurance to cover that horrific possibility is not only ridiculous, it is cruel.
This new law in Texas is cruel, indeed. And it remains to be seen just how many women it will impact — and whether it will be challenged by concerned citizens or advocacy groups who recognize that abortion is health care, and it is often life-saving.