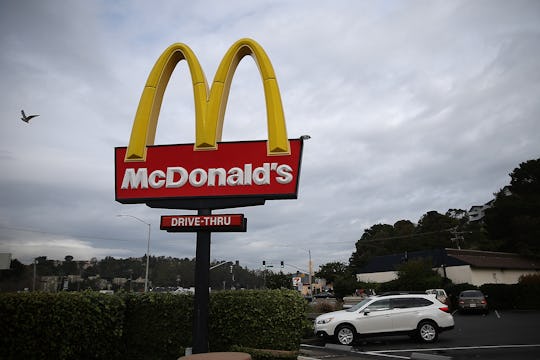 Justin Sullivan/Getty Images News/Getty Images
What Is The McDonald's Olympics Kids Program? It's A Seriously Cool Opportunity
With only two days left until the opening ceremony of the 2016 Olympic Games in Rio de Janeiro, Brazil, the world is waiting excitedly to watch athletes from all over the world come together to compete for medals in a variety of events over 16 days. But, thanks to the McDonald's Olympics Kids program, this year there will be about 100 children at the ceremony who might even be more pumped up than the athletes themselves. What is the McDonald's Olympics Kids Program? The fast food chain — who has long been a corporate supporter of the Olympics — announced earlier this year that it would be sending specially-selected children aged 8 to 12 years old from around the world as ambassadors to Rio to participate in the opening ceremony, and to watch the events and meet some of the athletes. The children will also be joined in Rio by a number of former Olympians and their own children, including U.S. Olympic gymnasts Bart Conner and Nadia Comaneci and their 9-year-old son, U.S. Olympic swimmer Dara Torres and her 9-year-old daughter, and U.S. Olympic soccer player Julie Foudy and her 9-year-old daughter and 8-year-old son.
According to the restaurant chain's media release, 17 countries in addition to the United States are participating in the program, including Argentina, Australia, Brazil, Canada, Chile, China, Costa Rica, France, Germany, Indonesia, Japan, Mexico, Panama, Puerto Rico, South Korea, Thailand, and the UK. Each country was responsible for choosing its own ambassadors, but in the U.S., at least, a number of the kids chosen are ones who have complicated medical histories, and whose families have stayed at Ronald McDonald Houses throughout the country when medical treatment at children's hospitals have meant they had to temporarily leave their homes.
Two American children headed to Rio as part of the McDonald's program are 12-year-old Hana Allen from Missouri, and 9-year-old Darius Ziabakhsh from New Jersey, both of whom have spent years traveling to Ohio to receive treatment at the Cincinnati Children's Hospital Medical Center, and staying at the Ronald McDonald House next door, according to local news station WCPO. Each of the children stayed at the Ronald McDonald House "roughly two to five times a year for sometimes months at a time," yet had never met. But the two children will now have an opportunity to meet face-to-face at the Olympics in Rio — which, let's be honest, is much cooler and way more fun than meeting in a hospital anyway.
At a celebration at a local McDonald's ahead of Ziabakhsh's departure to Rio, the boy's mother, Tracy Smith, told NorthJersey.com that she was thrilled her son had been chosen:
This opportunity still feels so surreal. My family is so grateful for this amazing gift that the RMHC community and McDonald's have given to Darius. The relationships fostered through RMHC and McDonald's are irreplaceable. Darius is beyond excited to participate in the Opening Ceremony with children from around the world.
For the children chosen and their families, McDonald's Olympic involvement has been a hugely exciting and awesome opportunity, particularly since they've all had to go through some incredibly difficult times during their various stays at Ronald McDonald Houses. The idea that they will all now get the once-in-a-lifetime chance to witness (and participate in!) the Olympic opening ceremony is totally heartwarming — and being able to watch them get the opportunity is, in itself, a totally compelling reason to tune in Friday night.