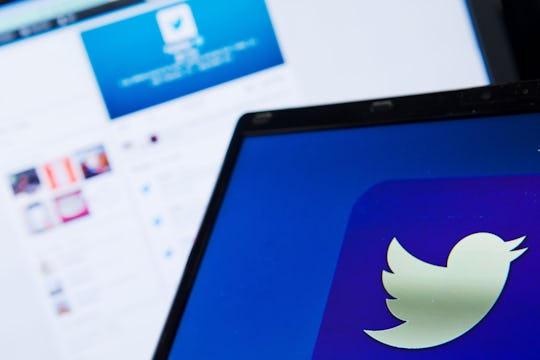 LEON NEAL/AFP/Getty Images
What Is The Twitter Blackout? People Are Protesting The Election Results On Social Media
The astonishing upset of former Secretary of State Hillary Clinton by President-elect Donald Trump in Tuesday's election stunned many, but as you might expect, not everyone is ready to accept the new reality of a Trump presidency. What is the Twitter blackout? Users on the social media platform have begun changing their profiles to plain black backgrounds, photos and headers in a sign of protest.
The #twitterblackout hashtag began to take off Wednesday, as many users' disappointment and shock over the election results turned to anger over what they considered to be a political win that represented deep-seated racism, xenophobia, misogyny, discrimination, and straight up hate among the country's electorate. In addition to switching to the all-black profile, Twitter users expressed frustration, disbelief, and dissent over the notion of a Trump presidency, arguing that, despite the results, Trump does not represent their beliefs, and that they don't consider him their president. Others began using the hashtag to spread messages of love, hope, and support to people of color, women, Muslims, and LGBTQ+ Americans, along with any others who were targeted by Trump during his campaign, or those whose rights might be threatened now that he is poised to take office.
Despite election polls largely predicting a Clinton presidency, Donald Trump surprised almost everyone by not only earning big wins in numerous crucial swing states, but by also managing to flip some Democrat stronghold states in his favor, according to ABC News. He also won a comfortable majority of Electoral College votes (276 to Clinton's 218, according to NPR), and if that wasn't enough, the GOP managed to retain control of the Senate and the House, too.
This overwhelming victory — from a candidate who made no effort to hide his controversial and often offensive positions from voters — has led to many complex emotions and reactions among Democrats today, and as is so often the case these days, social media has become the go-to outlet for those feelings. With many Americans feeling betrayed by the majority of voters' decision to vote for a Trump administration, the #twitterblackout hashtag is one way they've been able to express that sentiment.
Others have used the hashtag to encourage solidarity among everyone else currently feeling the same way:
Although the #twitterblackout might not end up yielding any significant change, the symbolism of the social media protest signifies how divided much of the country really is. In his victory speech Tuesday night, Trump did appear to be much less inflammatory than ever before though — even praising Clinton and congratulating her on her campaign — and spoke about the importance of unity and "[binding] the wounds of division," according to CNN. He also vowed that he would be "President for all of Americans," and that his government would represent "Americans from all races, religions, backgrounds, and beliefs."
Trump's words were, of course, a pretty sharp departure from his campaign rhetoric, and it's still hard to anticipate what we can realistically expect from someone who has been nothing but completely unpredictable right from the very beginning. There's no doubt that the undercurrent of disdain, anger and sadness over Trump's win isn't likely to dissipate anytime soon, but we can hope, at least, that moving forward, the country's new president will make good on his promise to represent everyone, not just those who agreed with his campaign's message.