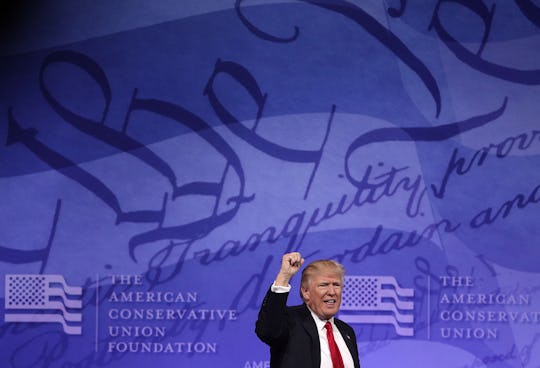 Alex Wong/Getty Images News/Getty Images
There's A #WinnerIsDJT Hashtag For The 2017 Oscars
Supporters of President Donald Trump have taken to social media ahead of Sunday night's Academy Awards with a hashtag campaign to get the president trending. Many have been wondering just how political the ceremony might be this year, but it looks like things are ramping up even before the opening monologue. What is the #WinnerIsDJT hashtag during the 2017 Oscars? It looks like a campaign to "Make The Oscars Great Again."
As it turns out, most of the tweets in the #WinnerIsDJT hashtag are not so much about praising President Trump, but rather, deriding the Academy Awards, those involved with it, and "liberals" — the latter a consistent theme for many MAGA Twitter accounts.
The hashtag's impetus was at least partly to do with one very well-known actor. Many photo edits, quotes, and memes in the hashtag are aimed at or otherwise offensively depict Meryl Streep, who Trump called "overrated" after learning that Streep had given a politically-charged acceptance speech at the Golden Globes. Streep is actually one of the most lauded artists of the last 30 years. If she wins the Academy Award this year, she'll be tied with Katharine Hepburn for the most Oscar wins of all time, by any actor, ever. She's actually broken her own record for the most nominations, with this year's being her 20th.
The online Twitter rally in support of Trump has gone so far as to ask its participants to boycott the Oscars entirely — the justification being that the awards show in general is in service to "the media elite." It isn't just the so-called "elite" media that Trump has a problem with — he's pretty much made it clear that he hates and distrusts the vast majority of media outlets. At the Conservative Political Action Conference last week, Trump said:
I want you all to know that we are fighting the fake news. It's fake, phony, fake. A few days ago, I called the fake news 'the enemy of the people,' and they are. They are the enemy of the people. Because they have no sources. They just make them up when there are none.
The New York Times — who Trump consistently refers to as "failing" — has been planning to run an ad during the Academy Awards, which Trump attacked on Friday, despite the fact that no one had actually seen it yet.
According to the Times, the ad is meant to remind the public of the importance of independent journalism, and while the campaign is set to debut during the Oscars, it's going to be ongoing from there. It's slogan — "The Truth is...Hard …Hard to find …Hard to know …More important now than ever" — is also a good reminder of why literature, theater, film, music, and the arts are so valuable, as they are another means by which we explore and better understand these truths.
Those in the #WinnerIsDJT hashtag, however, remain unconvinced.