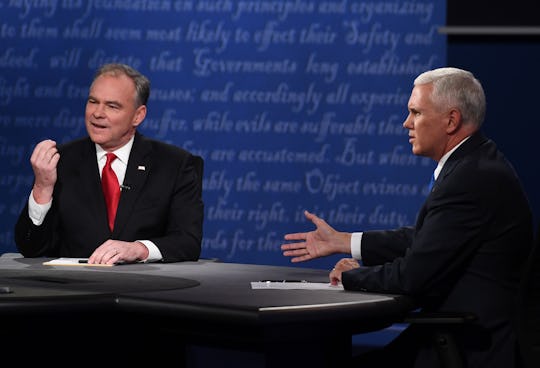 JEWEL SAMAD/AFP/Getty Images
What Is The Writing Behind Tim Kaine & Mike Pence At The Vice Presidential Debate?
Though Tuesday night's vice presidential debate was supposed to be a chance — well, the only chance — for Sen. Tim Kaine and Gov. Mike Pence to speak to the public about their political stances. But there were a lot of distraction during the debate that kept people from paying attention to what the nominees were actually saying. From Kaine's eyebrows, to Pence's doppelgänger, to the writing behind Tim Kaine and Mike Pence at the vice presidential debate, there were a lot of things people cared more about on Tuesday night than whatever was coming out of the candidates' mouths.
Longwood University served as the setting for the first and only vice presidential debate, despite Pence thanking Norwood University for hosting, as noted by USA Today. The Virginia-based college had been prepping for the debate for weeks and enlisted the help of multiple law enforcement agencies to help with debate security, according to NBC News. In addition to "1,700 public safety professionals," Virginia State Police Spokesperson Corinne Geller told the outlet that the school also enlisted the help of "Longwood University police, Prince Edward County Sheriff's Office, Farmville police, state police, and Department of Emergency Management," to ensure the safety of the candidates, the press, and the students of Longwood University.
But creating the perfect debate setting takes more than a solid security team. You also need the right decor. And Longwood University hit the nail on the head by writing the Declaration of Independence on a wall behind the two vice presidential nominees.
Though it was difficult to decipher from far away, close-ups of the candidates showed that they were sitting in front of a large than life version of the Declaration of Independence. And it was a very appropriate background in more ways than one.
Of course, there's the obvious fact that the Declaration of Independence is the document that announced the 13 original colonies as 13 independent sovereign states that were free from British rule. Essentially, it's the document that created the United States of America.
And, whether it was intentional or not, Kaine sat in front of quotes from the Declaration of Independence that paired perfectly with his campaign. The Democratic vice presidential nominee was sitting in front of a line that read, "mankind are more disposed to suffer, while evils are sufferable." Appropriate given he and Hilary Clinton are running against the most sufferable many on earth, no?
Though it's unclear to some who won the vice presidential debate, Longwood University won for the excellent background choice.