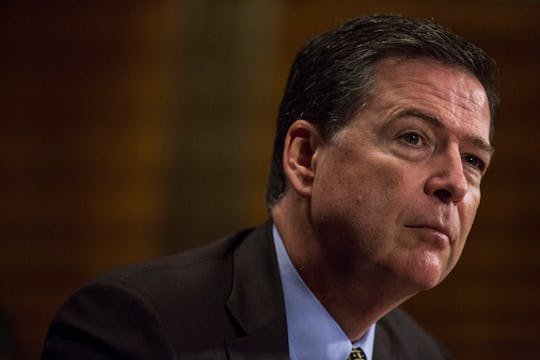 Zach Gibson/Getty Images News/Getty Images
What Kind Of Severance Will James Comey Get?
Mere days after FBI Director James Comey testified before the Senate Judiciary Committee regarding the Russian hack of the 2016 presidential election, President Donald Trump has fired him — A full six years short of the usual decade allotted to FBI directors. As we imagine him clearing out his desk, as it were, some of us are curious about the entire procedure. For instance, what kind of severance will Comey get? And will Trump give him a good reference for his resume?
Romper has reached out to both the White House and FBI for comment and is awaiting a response.
White House Press Secretary Sean Spicer released a statement on Tuesday announcing Comey's dismissal, according to Politico:
Today, President Donald J. Trump informed FBI Director James Comey that he has been terminated and removed from office. President Trump acted based on the clear recommendations of both Deputy Attorney General Rod Rosenstein and Attorney General Jeff Sessions.
"The FBI is one of our Nation's most cherished and respected institutions and today will mark a new beginning for our crown jewel of law enforcement," said President Trump. A search for a new permanent FBI Director will begin immediately.
Comey was leading the FBI investigation into the possibility that President Trump or members of his administration were colluding with Russia during the 2016 presidential election. Trump will be responsible for choosing Comey's replacement, who will need to go through a confirmation hearing.
In his own personal letter to Comey, Trump felt it was important to note that he, himself, had apparently been cleared of any suspicion (a claim which has not been confirmed by the FBI):
While I greatly appreciate you informing me, on three separate occasions, that I am not under investigation, I nevertheless concur with the judgment of the Department of Justice that you are not able to effectively lead the Bureau. It is essential that we find new leadership for the FBI that restores public trust and confidence in its vital law enforcement mission.
Now that Comey has been fired, what do his next steps look like? Considering he was only three years in to a typical 10-year term, how hefty would his severance package be?
The FBI hasn't shared any details about Comey's possible severance package, but the general assumption seems to be that it is expected to be relatively hefty. Comey may have been relatively new to the position, appointed as he was by former President Barack Obama in 2013, but his position was one of grave importance. And responsibility.
Something to think about for the next potential candidates who could be considered for the job.