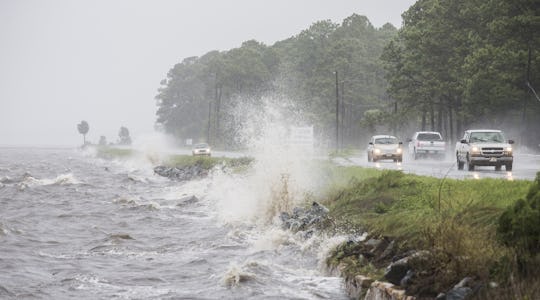 Mark Wallheiser/Getty Images News/Getty Images
What Other States Is Hurricane Hermine Affecting? It's Headed Up The East Coast
If you have any Labor Day weekend plans and happen to live along the coastal area on the mid-Atlantic coast, you might be worried about some potentially dangerous weather. A powerful and life-threatening hurricane hit residents from Florida to Virginia especially hard earlier this week — it's already caused two deaths, damaged properties and left thousands without electricity — but what other states is Hurricane Hermine affecting? Forecasters for the National Hurricane Center say the potentially scary storm is picking up speed on its way north, towards New York City.
On Saturday, Hurricane Hermine was downgraded to a tropical storm, but it could still cause problems and damage through the holiday weekend as it makes its way up the Atlantic coast. According to CNN, the storm is expected to gain strength on Sunday as it moves further out into the Atlantic Ocean. Heavy rains and harmful flooding is a possibility as forecasters say Hermine could reach wind speeds up to 75 miles per hour on Sunday.
According to The Weather Channel, Coastal residents in North Carolina, Virginia, Delaware, Maryland, New Jersey, New York, Connecticut, Massachusetts, Maine, and New England should be prepared for potentially dangerous weather on Sunday and Monday.
"Wind and water hazards of a variety of kinds are things we have to contend with throughout Labor Day weekend," National Hurricane Center Director Rick Knabb told CNN on Saturday. "Certainly a bad weekend to be on the beach and on boats."
Knabb continued to tell CNN, "At a minimum, we're going to have some beach erosion, rip currents and dangerous waves all the way from the south facing shores of New England, Cape Cod, Nantucket ... down to the Hampton Roads area."
Several states have declared a state of emergency, including New Jersey and Maryland. New Jersey Gov. Chris Christie said in a statement on Saturday that "the impending weather conditions constitute an imminent hazard."
Because parts of the mid-Atlantic and Northeast coastline will see significant impacts from Hermine, many Labor Day plans may have needed to be altered. In New York, for example, Mayor Bill de Blasio told CNN that no swimming will be allowed on New York beaches on Sunday and possible Monday and Tuesday as well.
It's very possible that Hermine could put a damper on your Labor Day plans. But, as long as you have a Plan B and are prepared, both physically and mentally, for rough weather, your long weekend also has potential to go off without a hitch.