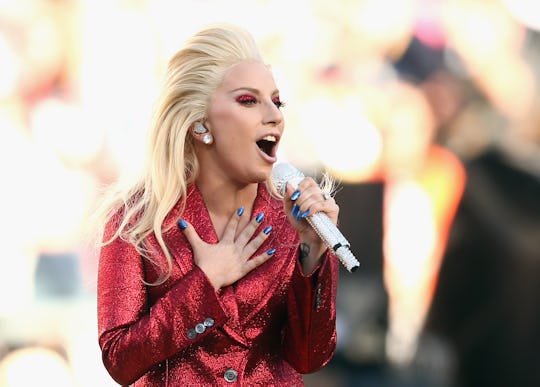 Matt Cowan/Getty Images Entertainment/Getty Images
What Songs Will Lady Gaga Perform At The Super Bowl? It Will Likely Be An Epic Show
It's no longer a rumor and finally official: Lady Gaga will headline the Super Bowl halftime show next year. The Mother Monster herself announced the news on her Instagram page Thursday, writing, "It's not an illusion. The rumors are true. This year the SUPER BOWL goes GAGA!" With all the excitement in the air, many might be wondering what songs Lady Gaga will perform at the Super Bowl. While an exact playlist doesn't appear to be available to the public right now, fans might be able to find out a bit more over the weekend.
According to a press release from the NFL, on Sunday, Oct. 2, Lady Gaga will sit down for an exclusive in-studio interview with Curt Menefee and Michael Strahan to "offer a glimpse into what she has in store for this historic Halftime Show." If you'd like to listen in and possibly be one of the first to know what the world will see on Sunday, Feb. 5, 2017, tune into your local FOX station at 12 p.m., ET for the NFL Sunday Pregame Show.
The news comes just weeks before the release of the Gaga's new album Joanne on Oct. 21. This will be her second time performing on the Super Bowl stage: The Grammy award winner sang the National Anthem at Super Bowl 50 last February, while Beyoncé, Bruno Mars and Coldplay headlined the halftime show.
According to Billboard, the pop star legend is just the fifth woman to headline the Super Bowl halftime show. As for what Lady Gaga has in store for this historic show... those details seemed to still be kept under wraps and might very well remain that way until show time.
But, one can imagine that she'll have plenty of amazing options of songs to choose from and guests of her own to possibly invite on stage with her. Her latest album offers up an impressive list of collaborators, including Florence Welch of Florence + the Machine; indie rock artist Father John Misty who's made contributions to albums by Kid Cudi and Beyoncé; as well as Beck, producer of "Uptown Funk"; Mark Ronson; Kevin Parker of the psychedelic rock band Tame Impala; and Josh Homme of Queens of the Stone Age.
No one knows yet which teams will be be playing in next year's Super Bowl — let alone in the playoffs, but fans certainly already have a reason to mark their calendars regardless. If her performance at last's year big game is any indication of what her upcoming halftime show debut will be like, it's bound to be mind-blowing.