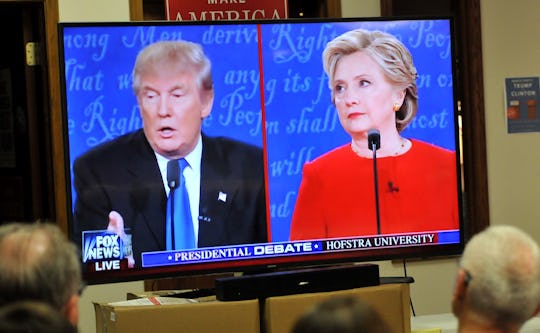 Steve Pope/Getty Images News/Getty Images
What Time Is The Second Presidential Debate? There Will Be Questions From Undecided Voters
We've now had one presidential debate between Donald Trump and Hillary Clinton, as well as the vice presidential debate between their running mates Indiana Gov. Mike Pence and Virginia Sen. Tim Kaine, respectively. The next presidential debate between Trump and Clinton is scheduled for Oct. 9 — but what time is the second presidential debate? You won't want to miss it. This debate will take on a slightly different format than the first.
The first debate between Trump and Clinton was back in September at Hofstra University, and was moderated by NBC's Lester Holt. Holt got a ton of flack on social media, with many feeling that Holt's moderation was ineffective at best — and totally biased at worst. In terms of the candidates' performances, most media outlets reported an increase in Clinton and Trump's poll numbers, but depending on which poll you cite, either candidate could have been considered the debate's overall winner.
Both have a chance to redeem themselves at the second debate Oct. 9 at Washington University. The debate will begin at 9 p.m. Eastern Time.
The general consensus by the media on the last debate was that Clinton held her own and certainly wasn't the wild card of the night: everyone was really more interested in what Trump would say or do. Clinton is a seasoned politician, and no stranger to the debate stage. Trump is considerably less experienced, though generally enthusiastic. Both candidates got in a few jabs at one another, and while they didn't hit on every issue, the controversial, headline-making stuff like Clinton's emails and Trump's taxes unsurprisingly took center stage.
The second debate takes on a slightly different format: it will be a town hall style debate, moderated by CNN's Anderson Cooper, who will also take questions from citizens. These questions can be submitted ahead of time at Presidential Open Questions, but those who will ultimately participate in the town hall portion of the debate will be "uncommitted voters selected by the Gallup Foundation," per the Commission on Presidential Debates.
Trump and Clinton will get two minutes each to respond to questions, which are expected to cover a broad range of topics of interest to U.S. voters. According to the Pew Research Center, the top voting issues for voters in 2016 have been the economy, terrorism, foreign policy, and healthcare. It's likely that there will also be questions posed to the candidates about high-profile, hotly-contested social issues (which often are reflected by social media's response to the debate) such as abortion, immigration, police violence, racial profiling, and gun control.
Debate moderator Anderson Cooper is no stranger to the political debate stage: he moderated the democratic debate last year, CNN's republican town hall forums back in April of this year, as well as the CNN/YouTube debates back in 2007 between Barack Obama and Hillary Clinton.
Voting in this election is especially crucial. That's why Bustle and Romper have teamed up with Rock The Vote and more than 50 other women's publications to get 100,000 women registered to vote before Nov. 8. The below widget can help you register in minutes. So register, and make your voice heard.