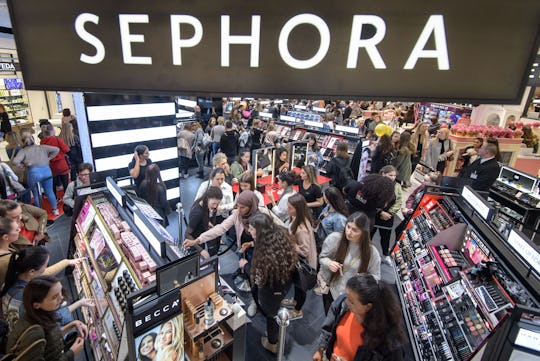 Thomas Lohnes/Getty Images Entertainment/Getty Images
Sephora's Black Friday Sale Will Include $15 Makeup Sets & $10 Cleansing Kits — Time To Stock Up
Although nearly every store has a killer Black Friday sale, there's only one shop that has my attention: Sephora. Honestly, the luxury beauty store is really stepping up its game this year. The best 2017 Black Friday deals at Sephora are a beauty addict's dream. Although you may not be able to buy the entire Fenty line for five dollars (dammit), there are some pretty sweet deals overall.
Sephora's big holiday deals are not advertised all over the place, however. The Black Friday preview for Sephora is only available on the company's app, which means I can't link directly to the specific products here. So if you want to review the store's full list of offerings, it's best to use the app. Some of the best deals from the most popular products are outlined here for your convenience, though, and they are pretty compelling. From face masks to mascara to cleansers, some big names in beauty are on sale for pretty deep discounts. There's bound to be some prestige cosmetic on sale for almost everyone on your holiday gift list.
Oh, and if you just want to buy beauty stuff for your own self, that's cool, too. In fact, it's something of a trend: last year, the prestige cosmetics market experienced huge growth — nearing $6 billion in sales — thanks in part to consumers buying holiday cosmetics for themselves, according to CNBC. There's no shame in scooping up a new lipstick or highlighter for all those holiday photos.