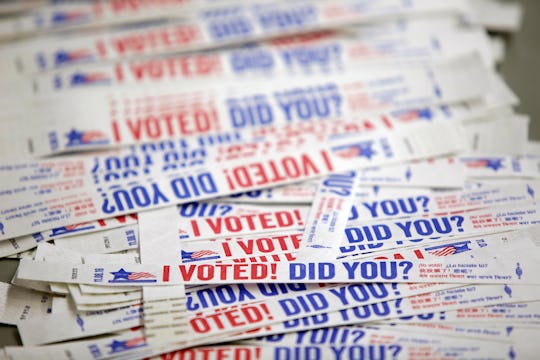 JOSHUA LOTT/AFP/Getty Images
What To Do If You See Voter Intimidation Happening, Because It Can Happen In Many Ways
While the idea that the presidential election is going to be "rigged" has been a major, blustery talking point for Donald Trump's campaign, polling places have nonetheless been on paying very close attention just in case someone tries to threaten another American's right to vote. Even though Election Day is still a week away, some places have already reported cases of voter intimidation — the act of someone interfering or attempting to interfere with your right to vote or someone else's right to vote. Fortunately, incidences of this are not all that common, but here's what to do if you do see voter intimidation happening, because it could be occurring at your own polling place on Nov. 8.
According to the American Civil Liberties Union (ACLU), voter intimidation is a violation against federal law and it can rear its ugly head in multiple ways. The ACLU says these are some forms of voter intimidation to look out for: Someone aggressively questioning voters about their citizenship, criminal record, or other qualifications to vote; falsely presenting oneself as an elections official; spreading false information about voter requirements (such as the ability to speak English); and displaying false or misleading signs about voter fraud and the criminal penalties related to it.
Despite evidence that says incidences of voter fraud and intimidation are very uncommon, Trump has asked his supporters to become "Trump Election Observers" to keep an eye on polling places.
"So important that you watch other communities, because we don't want this election stolen from us," Trump recently said at a speech in suburban Pittsburgh. "We don't want this election stolen from us. We do not want this election stolen."
Many worry, however, that these observers might actually have a negative effect on how many people, especially minority voters, turn up to vote or how their presence might intimidate those who do. But there are ways to intervene if you think that's happening.
According to the ACLU, here are a few outlets to which you can report threatening or intimidating behavior:
The Election Protection Hotline: 1-866-OUR-VOTE or 1-888-VE-Y-VOTA (for Spanish speakers)
The U.S. Department of Justice Voting Rights Hotline: 800-253-3931
Local and state officials, including poll workers; your county clerk, elections commissioner, elections supervisor; or your state board of elections
Citizens heading out to cast their votes on or before Election Day should not be discouraged from doing so because there's a chance voter intimidation might happen to them. Instead, voters should report any cases of it that they witness and protect others who might also be victimized. There's no doubt that this election has been a rough ride, so as Nov. 8 gets closer people should be remember that voting is a privilege that should not be taken away.