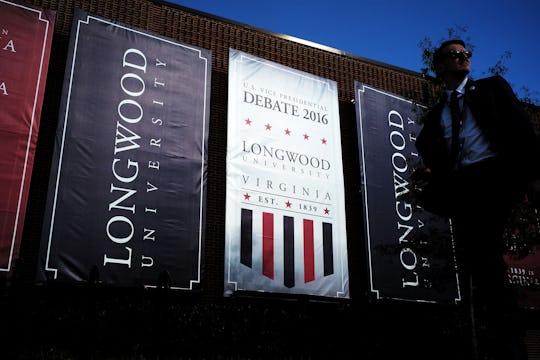 JEWEL SAMAD/AFP/Getty Images
What Topics Will The Vice Presidential Debate Cover? There's Plenty To Talk About
Two White House hopefuls will square off on Tuesday night, promoting the presidential visions of their respective parties' candidates. Sen. Tim Kaine will debate Gov. Mike Pence in the vice presidential debate at Longwood University in Farmville, Virginia, one week after Donald Trump and Hillary Clinton went head-to-head the week prior in the most-watched TV debate yet, discussing broad topics such as foreign policy, domestic issues like systematic racism, and personal ones, like Trump's views on women. But what topics will the first vice presidential debate cover?
In the same, 90-minute format, the vice presidential debate will be divided into 10 sections. Moderator Elaine Quijano of CBS News will begin the segments with opening questions, allowing two minutes each for the candidates to respond. The remaining six-odd minutes will then be used by Quijano to facilitate some back-and-forth discussion.
An op-ed in The Washington Post entitled "The vice-presidential candidates' to-do lists for the next debate" this week discussed the direction that both Kaine and Pence likely hope the discussion leads for each other's opponent. Blogger Jennifer Rubin's questions for Pence tackle similar issues to those covered in the first presidential debate: Trump's view on trade and how it appears to conflict with Pence's; Trump's sordid history in which he's "belittled, insulted and stereotyped women his whole adult life"; Trump's yet-to-be-released taxed returns; as well as his lack of conservative views in that he "virtually never talks about abortion or gay marriage."
On the other side of the aisle, Pence might hope that Kaine is asked about Clinton's flip-flopping on the Trans-Pacific Partnership; her alleged mishandling of classified material; Kaine's own apparent dissonant views on abortion; and inquiries on The Clinton Foundation, specifically. "Was it appropriate for Clinton to meet with donors to the Clinton Foundation when she was secretary of state?" Rubin suggested. Essentially, she noted, Kaine and Pence can and should use the debate as a platform to critique Trump and Clinton.
Though absent, Trump and Clinton will still be the main stars of the night. Florida Sen. Bill Nelson speculated to reporters that the VP debates will reveal an obvious "contrast" between the two running mates. By Nelson's estimations, Kaine "is very much in the mainstream" as opposed to Pence, who he believes to be "extreme."
The two vice presidential hopefuls have increasingly been butting heads of late. Kaine has criticized Pence in the past for dubbing climate change a "myth." At a Human Rights Campaign function in September, Kaine claimed that Pence "ran a one-man crusade to allow Indiana businesses to discriminate against LGBTQ Americans." A little over week ago, he harped on Pence's and Trump's joint-admiration for Vladimir Putin, suggesting that the pair "can't understand the difference between dictatorship and leadership."
In tonight's VP debate, the candidates will work to defend their own running mate while attacking one another's respective campaign platforms. Though the stakes are much lower than those in the first presidential debate, observing how Pence and Kaine each conduct themselves in a public forum is vital, given that they're both just one step away from the presidency themselves.