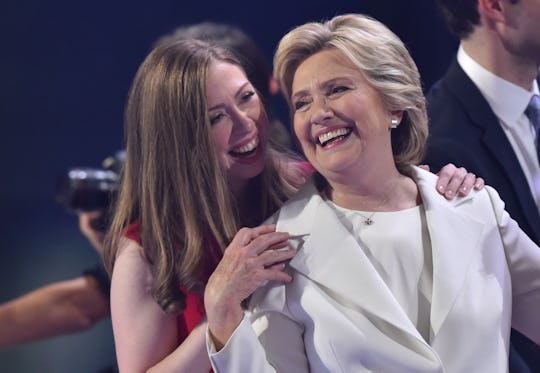 NICHOLAS KAMM/AFP/Getty Images
What Will Chelsea Clinton Do If Hillary Becomes President? She Might Not Change A Thing
The Clinton family is used to being in the public sphere, but if Democratic nominee Hillary Clinton wins the election this November, some family members might have to rethink their professional roles. Her daughter is currently on the board of the Clinton Foundation, but many insiders are wondering what daughter Chelsea will do if Clinton becomes president. However, if recent reports are correct, the question of Chelsea's career doesn't seem to be keeping the candidate awake at night worrying.
Former President Bill Clinton has said that he plans to step down from his role at the foundation if his wife wins the election, but the former Secretary of State doesn't see any reason for their daughter to step down as well if she were to win the election come November.
In fact, according to Clinton, there isn't any reason for Chelsea to take a step back. The candidate told reporters on her private plane Tuesday that it will all come together if she wins and there are no conflicts of interest when it comes to her family and the foundation. "As I've said over and over again — it doesn't matter how many times you ask me and how you ask me — these issues will be decided after the election. We will decide the appropriate way forward," Clinton said.
Actually, Hillary doesn't seem to think that anyone should have step down from their role at the Clinton Foundation if she wins, since she maintains that there are no conflicts of interest. It seems like asking any family to step away from their role at the charity would be like an admission of guilt from the candidate.
Then again, anything having to do with the Clinton Foundation is rife with controversy. Republican nominee Donald Trump and his camp continue to accuse the Clintons of taking donations for the foundation, which does charitable work like providing HIV/AIDS treatment for patients around the world. There are many voters worried that Clinton took donations for the foundation while serving as Secretary of State that might have compromised her ethics. So far, though, all of those claims are unfounded, and no charges have ever been made.
Then again, the smart thing for the Democratic candidate might be to acknowledge that even if nothing ever went down, the idea that there could be a "conflict of interest" is enough to remove anyone in her family or close circle out of the line of fire. Chelsea Clinton has been serving on the Clinton Foundation's board, among some other small stints, like an NBC correspondent gig in 2014, so having to leave her post (and her $900,000 salary) would be unsettling for the 35-year-old.
The foundation could carry on its business without the Clintons at the helm and if it helps American voters to trust the candidate a little more, it could be worth stepping away in the name of making a statement. Then again, if there's no truth to the claims that any shady dealmaking occurred while Clinton was Secretary of State then there's also an argument that everything should remain as it is if she wins the election. It might a complicated transition, but it's still way too early to start making any big moves.