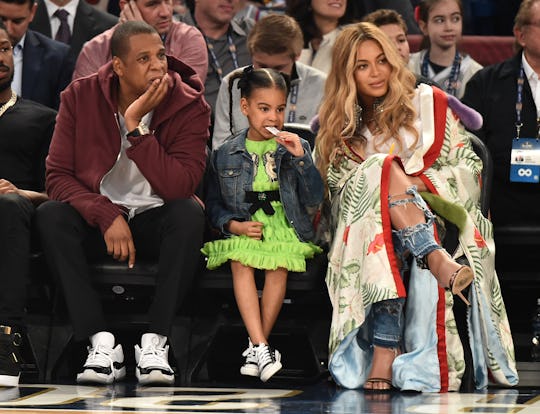 Theo Wargo/Getty Images Entertainment/Getty Images
What To Expect When Sharing A Delivery Wing With Beyoncé
Even though we don't know exactly when Beyoncé's twins are going to arrive, it's safe to assume that her due date is quickly approaching. So when this glorious day finally comes, what can the rest of the world expect to happen? Like, will the city — could be anywhere, but there's speculation she'll deliver them in Los Angeles — come to a screeching halt? Or will the hospital close off an entire floor for Bey, her family, and their security detail? Or, what will happen to the other families in the delivery wing when Beyoncé gives birth?
Considering how high-profile Beyoncé's pregnancy is, it's not impossible to wonder whether there will be additional security (private or otherwise) in the hospital that day — especially since families claimed in statements to the media back in 2012 that security guards kept them out of the neonatal unit when Beyoncé gave birth to her now 5-year-old daughter, Blue Ivy, at Lenox Hill Hospital in Manhattan.
"The familiar area outside the neonatal unit had been transformed: partitions had been put up, the maternity ward windows were completely covered, and even the hospital's security cameras had been taped over with paper," The New York Times reported in January 2012. "Guards with Secret Service-style earpieces roamed the floor."
But these claims were quickly debunked by hospital staff. According to CBS News, Lenox Hill Hospital Executive Director Frank Danza issued a statement regarding what he called "inaccurate news media reports":
Lenox Hill Hospital and its staff were delighted to welcome the Carter family for the birth of their firstborn on Saturday evening, but we are troubled by the misinformation being circulated in some news media reports ... The family does have its own security detail on site. However, the hospital has been and continues to be in control of managing all security at the facility. We have made every effort to ensure minimal disruption to other families experiencing the births of their own children over the past three days. No security plan that we or the Carter's security team put in place would have prevented or delayed families from gaining access to the Neonatal Intensive Care Unit (NICU), and to date, no families have complained to the hospital about being denied access to the NICU.
As the hospital didn't deny that there was a security plan was put in place by its staff or by Beyoncé and husband Jay Z's team — and that's certainly to be expected — it's possible that an extra security presence might be visible in the delivery wing of whichever hospital she delivers in this time around, too.
In fact, In Touch reported that the expectant parents have "a military-like plan in place" to ensure they get to Cedars-Sinai Medical Center in Los Angeles without any issues.
And hospitals also have plans to handle VIPs and celebrity patients. According to AHC Media, the room selected for such a patient as Beyoncé or the president "must allow minimal access or visibility and allow maximal security and protection" and "any security instructions given by a protective agency (e.g., the Secret Service) should be followed."
Hopefully no other families who are also experiencing one of the most magical days of their lives will be affected by any extra security, which is a likely situation. But sharing a birthday with Beyoncé's twins is pretty cool, too.