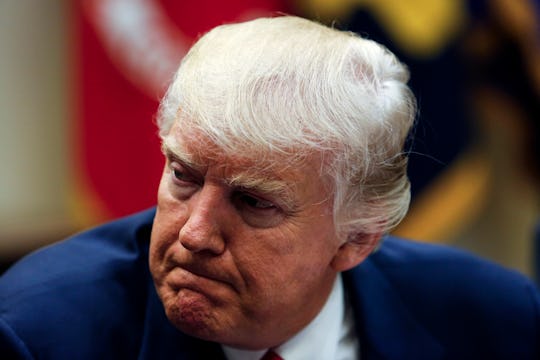 Pool/Getty Images News/Getty Images
What Trump Will Discuss In His Address To Congress
At one month into his presidency, Donald Trump has made ample use of executive orders, tweets, and campaign-style rhetoric to lay out his thoughts on the country's direction. But on Tuesday, the new president will have an opportunity to present his full vision for the country when he addresses a joint session of Congress for the first time. A set of White House talking points obtained by Politico on Monday afternoon previewed the unofficial State of the Union-style speech planned by Trump and his aides. And if the president follows script, Trump will likely talk about a variety of issues during his speech, which could include big announcements on healthcare reform, taxation, regulation, and military spending according to Politico's report.
To be clear, Trump really won't be delivering a State of the Union speech this year, and it isn't because he's rejecting convention. In delivering a joint address to Congress, Trump is actually following presidential tradition this time, rather than bucking it. As the name implies, a State of the Union speech requires the president to have a solid handle on the nation's affairs for the prior year, along with a set of priorities for Congress and the country. At just 40 days post inauguration, it's impossible for Trump — or any new leader — to have that kind of grounding.
For those reasons, the White House has framed Tuesday's joint congressional address as a time for the new president to lay out his administration's goals, rather than to focus on his legislative agenda, CNN reported. Though not technically a State of the Union, the stakes are still high for Trump as the address offers an important preview of where he plans to spend his limited political capital over the coming months.
By late Monday, it appeared that the president's field of focus — and his plans for currying political support — had been narrowed to a handful of major themes. The 11 talking points, distributed by the White House and posted on Politico's website, outlined "an optimistic vision for the country that crosses the traditional lines of party, race and socioeconomic status." The president plans to unveil an agenda that "invite[s] Americans of all backgrounds to come together in the service of a stronger, brighter future for our nation."
Among the major themes planned for Trump's first address, as listed in the White House document, are the following topics:
Tax & Regulatory Reform
The list specified Trump would discuss tax and regulatory reform in order to:
... get relief to hardworking Americans and American businesses.
Workplace & Family Issues
The bulleted list's specific topics include:
Making the workplace better for working parents. Saving American families from the disaster of Obamacare. Making sure every child in America has access to a good education.
Military Spending
Specific topics included in the handout include:
A great rebuilding of the American military. Fulfilling our commitments to our veterans and making sure they have access to the care they need.
While light on details, the talking points hint that Trump will deliver an organized, strategic message to the nation, along with some policy details for elected leaders to consider in the coming weeks. Still, those plans may mean little in light of Trump's tendency to go off message, skate over policy details, and blatantly contradict himself (and his surrogates).
With just hours to go before Trump makes his first appearance before Congress, what the president will actually say is really anyone's guess.