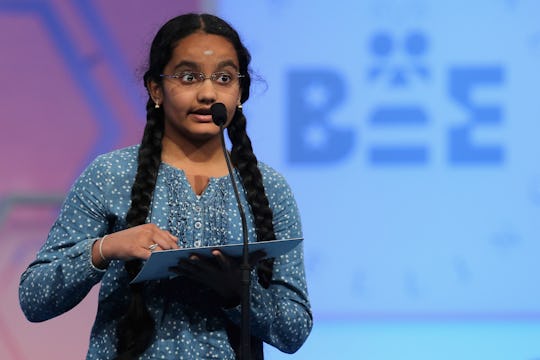 Chip Somodevilla/Getty Images News/Getty Images
What Will Your Kid Learn From The Scripps Spelling Bee? It's Not Just About Spelling
Get ready, parents, because you might soon discover that your children can out-spell you. The 89th Annual Scripps National Spelling Bee will be televised nationally this week, and it's the perfect opportunity for a family TV night that's also educational. What will your kid learn from the Scripps Spelling Bee? It's not just about knowing how to spell; It's also about dedication and sportsmanship.
The Scripps Spelling Bee has become a nationally celebrated event since ESPN started televising it 23 years ago. This type of recognition from the country's premiere sports network highlights the competitive aspects of spelling bees; They require intense training, and aren't for the faint of heart. The kids who participate have typically spent many years in preparation. Rabya Hasnain, an 11-year-old from Illinois who will participate this year, told the Herald & Review newspaper that she studies for two to three hours each school day, and even more on the weekends.
Spelling bees are an excellent way to teach your own children about the importance of training and dedication. This was the first year than Hasnain progressed beyond the regional finals, but it was her fourth consecutive attempt. Many spellers, just like Hasnain, return to the bees year after year. Indeed, if you watch the Scripps Bee every year with your kids, they'll start to recognize the same kids from the year before, still trying for that first-place win.
"The spelling bee has a remarkable pull over those who've made it to the national stage," ABC News reported. "Year after year, they keep coming back."
The kids don't return just so that they'll win. They also return because the Scripps Bee has become part of their social network. Amy Goldstein, an editor for ESPN who now covers the event, was a participant back in 1998, and has been involved with the Bee — in one way or another — ever since. "I love the camaraderie," Goldstein told ABC News. "I'm looking forward to catching up with old friends. It's something that I credit with helping me find a career, helping guide me."
Many kids continue to be involved with the Bee, even after they're no longer qualified to participate. Contestants aren't eligible after the eighth grade. This year, of the 235 participants, 40 percent are 13-year-olds. Zander Reed, an Iowa youth who has already competed in the Bee three times, will be returning this year for his final attempt. "It's sort of exhilarating, just like doing any other sport," Reed told the Ames Tribune.
For kids who compete year after year, the process of aging out can be difficult. Rob Palmisano, a former participant who will be part of this year's college crew, told ABC News that aging out feels "abrupt" and prompts a time period of "deep reflection." After the reflecting is over, though, the Scripps Bee community welcomes past participants with open arms. From working on the college crew to serving as competition judges, there's something for everyone.
Sportsmanship, friendship, discipline: The Scripps Bee teaches all of these things, but without the risk of bodily injury. From a parenting perspective, it sure seems like a good deal.