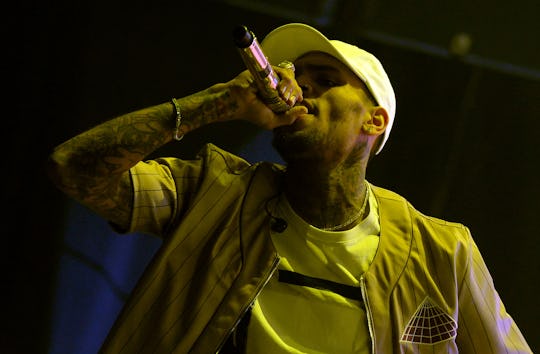 FADEL SENNA/AFP/Getty Images
What's Going On At Chris Brown's House? Reports Say LAPD Is Trying To Get Inside
Earlier Tuesday, the LAPD confirmed it had responded to an incident at Chris Brown's residence — though what type of incident remains unclear — leaving many fans wondering: what's going on at Chris Brown's house? At this time, not much is known; however, multiple outlets are reporting that police were responding to a 911 call from a woman at the singer's home, and that the woman has claimed Brown pointed a gun at her. Romper has reached out to Brown's legal representative for additional comment, but inquiries were not immediately returned.
A spokesperson for the LAPD told FOX411 that the LAPD Robbery and Homicide division responded to an incident "at Chris Brown's resident...to gather more information," and while little is known at this time, the same LAPD spokesperson did add that "no shots were fired" at Brown's home":
Right now that's all we have.
However, the Los Angeles Times reported that, while officers arrived at Brown's home, they were not allowed to enter his residence, and were turned away because they lacked a search warrant. Detectives are now working to obtain said warrant to search the singer's residence, which is located in the 5000 block of Corbin Avenue.
Brown took to his Instagram to express his outrage. In fact, the singer has posted several videos vilifying the police and discrediting the alleged charges against him.
Editor's Note: The Instagram post has since been deleted.
And, in one video, Brown explicitly told police they are "going to see nothing":
Good luck. When you get the warrant or whatever you need to do you're going to walk right up in here and you're going to see nothing, you idiots. I'm tired of...dealing with y'all...at the same time,when I call the police for stalker people that are endangering my life, they don't come until the next day. Then somebody make a f***ed up allegation about me, and oh yeah the whole f***ing SWAT team.
Of course, the singer has had several run-ins with the police before. In 2009, Brown pled guilty to attacking his then-girlfriend Rihanna. Brown then spent the next five years on probation, during which time he also completed 1,000 hours of community service and took several domestic violence classes. In May 2014, Brown plead guilty to assaulting a man outside of a Washington D.C. hotel, though according to Rolling Stone, during the trial Brown told the court he regretted his actions:
I would like to say to the court that I'm sorry.