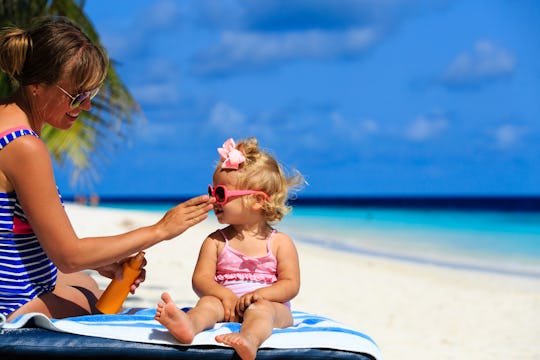 nadezhda1906/Fotolia
The Most Important Thing To Know About Sunscreen & Toddlers
For most families, summertime means long days at the beach, enjoying the surf and sand. Kids get to cool off in the water and build elaborate sandcastles, while parents get to lay back and soak in the sun. But too much sun exposure can be dangerous, especially for young children. So when you take your little one to the beach, the pool, or just outside this summer, you're probably ready to slather them in sunscreen. But what's the best SPF for toddlers?
The American Academy of Pediatrics (AAP) explained that parents should look for sunscreens with an SPF of at least 15, and they should avoid sunscreens that contain oxybenzone, which can interfere with hormones. The AAP also suggested using a sunscreen with zinc oxide or titanium dioxide on sensitive parts of your child's body, like their nose, ears, shoulders, and cheeks.
Romper spoke with Bineesh Moyeed, Pharm.D, for more information on choosing an SPF for your toddler. She says that because UVB and UVA rays from sun exposure can be harmful for children, it's a good idea to use sunscreens that can block out both. "It's important to choose a broad-spectrum sunscreen that is specifically made for young children, because they provide broader protection and are designed for a child's delicate and sensitive skin," she says. For her own twin toddlers, Moyeed uses an SPF 50 sunscreen specifically made for kids.
If your child is going to be in the water, Moyeed suggests using a waterproof sunscreen, but she says it's important to know that sunscreen can wear off, regardless of its SPF level or its resistance to water. "You should reapply sunscreen every few hours if needed, especially if your child is in and out of the water, using a towel, or sweating," she says.
Prolonged sun exposure isn't good for anyone. The AAP explained that while sunscreen can help protect your child's skin from skin cancers and sunburn, it doesn't give you the protection to stay in the sun longer than you should, so you should limit your time in the sun to hours when UV rays are at their lowest — preferably before 10 a.m. and after 4 p.m.
So when you take your toddler out to enjoy the summer, make sure you're using a sunscreen with an SPF of at least 15, but remember, what's really important is reapplying throughout the day. Whether your child has been in and out of the water or not, it's important to add more sunscreen frequently. Practicing skin and sun safety can let you rest easy, while your family enjoys their time in the sun.