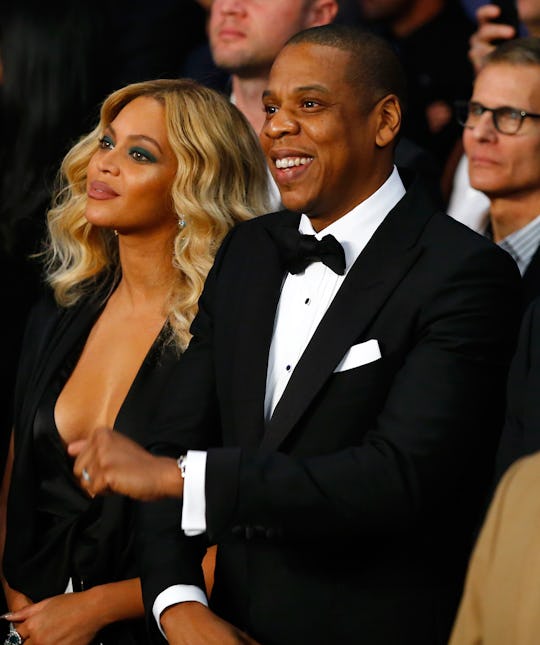 Al Bello/Getty Images Entertainment/Getty Images
When Does Beyonce Want A Second Child? She's A Little Busy With World Domination
Sometimes I lie in bed in the morning, thinking about Beyoncé and the United States Army. I'm still in bed at seven o'clock, and I'm thinking about what Beyoncé has probably already done with her day (I'm also thinking about the Army because of that old advertisement, "We do more before 9 a.m. than most people do all day," which felt like just about the worst guilt trip anyone could lay on a person). Queen Bey is basically just about the busiest person I can think of, and yet people are wondering when Beyoncé wants her second child. It's like the whole world is one of those annoying relatives who keeps badgering you about having another baby, you know?
There have been rumors swirling about Beyoncé and Jay Z having another baby for months. Now that the rumors of a second pregnancy have ended (thanks to Queen Bey's killer bodysuit/fishnet stockings combo at Superbowl 50) another oft-repeated rumor has hit the tabloids again: the couple must be breaking up. That must be why they aren't having another baby, right? People have been predicting the demise of Bey and Jay's relationship since they got married in 2008. There has been constant speculation about the couple, which seems to spark whenever the two are too busy to be having more offspring (daughter Blue Ivy was born in 2012). It's tough to figure out if fans are hopeful or fearful about the end of music's super couple Bey and Jay. Either way, it hasn't happened yet, guys.
Another thought about Beyoncé having a second baby? When exactly is she supposed to find the time? If memory serves me, babies are pretty time consuming, even if you are clearly a highly organized woman like Beyoncé. Here is what I think a day in the life of Beyoncé might look like:
Wake up around 4 a.m. after not sleeping all night because she's too busy thinking about everything she needs to do.
Eat a breakfast of avocado and eggs, or some such thing with loads of protein, because she is going to need it.
Workout. You don't get to look like Queen Bey and not work out. I know, I've tried.
Go over checklist for world domination. She's getting close.
Answer 7,000 emails regarding: Ivy Park (her new activewear line), Parkwood Entertainment (her record label), Tidal (streaming site co-owned with her husband Jay Z), her new album (most of those emails would look like this; WHEN??), and her upcoming tour.
Spend time with her perfectly amazing little daughter Blue Ivy, who makes me want another child despite my protesting ovaries.
Go out in the world and run all of the aforementioned businesses like a total boss.
Come home to Blue Ivy and Jay Z, and hopefully have a little time to curl up together before collapsing into bed.
While Beyoncé might want a second baby, I think it's safe to say the busiest woman on the planet might be a little too busy taking over the world to get pregnant right now.
So let's give the woman a little breathing room, guys. Maybe she and Jay are breaking up, but it looks unlikely and it certainly isn't anyone's business. Maybe it's our role as fans to give her the room she needs to make us beautiful music/clothes/videos so we can all have a Beyoncé-filled summer. After all, there is always next year for another baby, right?