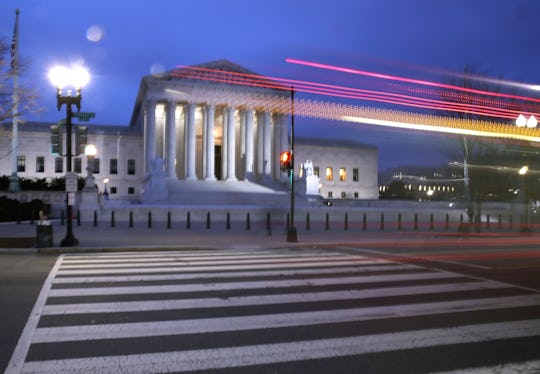 Mark Wilson/Getty Images News/Getty Images
When Does Neil Gorsuch Start His SCOTUS Duties?
On Tuesday night, President Donald Trump nominated Neil Gorsuch to take over the vacant Supreme Court seat in the wake of Justice Antonin Scalia's death last year. Trump's pick is controversial, but Gorsuch will start work on the Supreme Court only after he is confirmed by the Senate. That is probably going to take a while because a nomination from the president is only the first step to a confirmation hearing, and that confirmation hearing can go so many ways.
If you've been watching the Senate confirmation hearings of Trump's Cabinet picks, multiply the intensity of those by a thousand just to get an idea of how tense the Supreme Court nominee's hearing is going to be. The Cabinet picks are akin to baseball playoffs. Important and engrossing, for sure, but a limited audience (sorry, baseball fans).
The Supreme Court nominee's confirmation hearing is going to be more like the NFL's Super Bowl. With no Beyoncé halftime show in sight, we're looking at a long, drawn-out, possibly months-long fight between the Senate and the nominee. There will be recesses where politicians call foul, Democrat-led filibusters, and hours and hours and hours of questioning.
The Supreme Court began its term for the year back in October and has been hearing arguments and tossing legal documents (not literally, of course) back and forth for the past few months on very important cases. If, by any chance, the Senate approves Trump's choice within a month or two, he could technically be able to jump in, review the current cases on the books, and give an opinion. Which, in some sense, would be welcome, given that the Supreme Court has been operating with only eight justices for almost a year and could use a tie-breaker vote.
In the past, though, that's not what normally happens. Amy Howe, a writer and legal analyst for SCOTUS Blog told Romper via email on Monday:
When Justice Alito replaced Justice O'Connor in the middle of the term in 2006, he didn't vote or otherwise participate in the cases that were argued before he joined the court. Instead, they issued rulings in all of the cases that weren't tied, and in the cases that were tied 4-4 without Alito they had re-arguments.
So, yes, if confirmed immediately, Trump's nominee could technically get to work. But out of respect for the law and the judicial system, most justices normally wait a bit until they hear arguments for a case before they rule on them. It's bad form not to. And even if voters have little faith in Trump following protocol, judges, or newly appointed justices, they often have more respect for the legal system than their political allies.
In other words, if, or when, Gorsuch is confirmed, it's likely he'll have to wait a bit before getting his hands dirty. Here's hoping it doesn't get messy in the meantime.