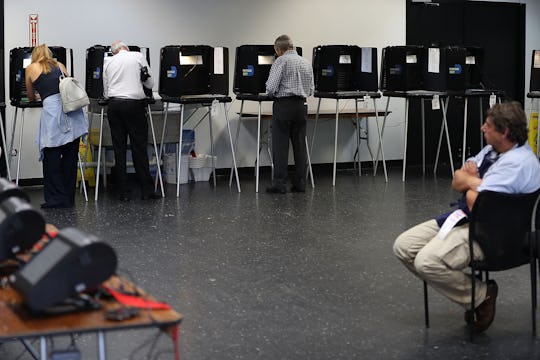 Joe Raedle/Getty Images News/Getty Images
When Is Florida's New Voter Registration Deadline? Hurricane Matthew Influenced The Change
Hurricane Matthew, which proved to be an absolutely devastating hurricane, particularly in Haiti, is now the center of conversation for voter registration in Florida. A federal judge granted an extension for the voter registration deadline in Florida on Wednesday due to interruptions in registration efforts as a result of the hurricane. So, when is Florida's new voter registration deadline? Florida voters will have more time to register to vote, and ultimately have their voices heard come Nov. 8 election day.
The original voter registration deadline in Florida was Tuesday, Oct. 11. The Florida Democratic Party filed a suit on Sunday in an effort to force state officials to extend the deadline. Florida Gov. Rick Scott, who chairs a pro-Donald Trump super PAC, denied requests for an extension. According to the SunSentinal, Scott said: "Everybody has had a lot of time to register."
But U.S District Judge Mark Walker initially extended the deadline to Wednesday in order to hold a hearing on the matter that same day. Following the one-hour hearing, Walker ruled that voters will have a one-week extension to register to vote, now making the deadline Tuesday, Oct. 18.
According to CNN, Walker previously noted that an extension would not be politically-motivated, but instead, it's about the "right of aspiring eligible voters to register."
"It has been suggested that the issue of extending the voter registration deadline is about politics. Poppycock," Walker wrote according to CNN. "This case is about the right of aspiring eligible voters to register and to have their votes counted. Nothing could be more fundamental to our democracy."
Hurricane Matthew threatened Florida as a Category 3 hurricane. Scott declared a state of emergency throughout the entire state, and issued both mandatory and voluntary evacuations. According to the Miami Herald, the evacuation orders affected more than 1 million Florida residents.
The lawsuit, filed by the Florida Democrats, reportedly pointed to the fact that Scott issued evacuations, which ultimately led to disruptions in voter registration efforts, The Herald reported. Florida only offers voter registration by mail or in-person — residents cannot register to vote online.
"Many Floridians who would have registered to vote prior to the Oct. 11 registration deadline have been displaced or otherwise prevented from registering," the lawsuit read, according to The Herald.
Walker referred to the State's refusal to extend the registration deadline as "wholly irrational" in a 16-page order, according to reporting by The Herald:
Quite simply, it is wholly irrational in this instance for Florida to refuse to extend the voter registration deadline when the state already allows the governor to suspend or move the election date due to an unforeseen emergency.
And as The Herald pointed out, South Carolina, also significantly impacted by Hurricane Matthew, extended its voter registration deadline. Nov. 8 is quickly approaching and it continues to be an important election cycle to follow. What's important, is that all citizens have the opportunity to exercise their rights to vote.