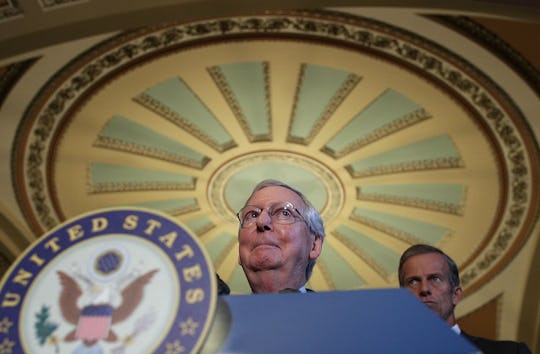 Alex Wong/Getty Images News/Getty Images
Here's When The Senate Will Vote On The ACA Repeal
On Tuesday afternoon, Senate Republicans held a procedural vote to bring a new health care bill (albeit an empty one) to the floor for debate. But when the actual health care repeal vote will happen is anyone's guess. Given how poorly past votes have gone for the GOP, anything could happen.
On Tuesday, after some contentious debate among Republican senators, most notably Wisconsin Sen. Ron Johnson — who pretty much sealed the deal with his "aye" vote — and House Majority Leader Mitch McConnell, the Senate voted to simply debate a bill that would repeal the Affordable Care Act and replace it with new legislation.
This is both good and bad news. The bad news is that McConnell, the Senate's head honcho when it comes to composing this bill, wouldn't have called a vote if he didn't feel confident that people were going to vote for it. Also, he's expressed a strong desire to pass a health care bill as quickly as possible. Remember, earlier this month, he was hoping to bring a health care bill up for vote in just one week. (That time, they couldn't rally enough senators to vote before the July 4 recess.) So it's likely he's hoping to push for a vote as soon as possible, especially since President Trump is very eager to repeal and replace the ACA and make good on his campaign promise.
But that might not be how it goes down.
Tuesday's vote was not easy. The senators fought a lot over the idea of just bringing the health care bill up for debate, especially since many of them don't really know what's in the bill. Maine Sen. Susan Collins, for example, voted "no" on the motion because she doesn't know what's in the bill. Kentucky Sen. Rand Paul only voted for it because the GOP promised to take up the 2015 repeal and replace bill to get rid of the ACA. Arizona Sen. John McCain went all the way to D.C. to vote yes, despite the fact that he received a brain cancer diagnosis just last week. Other senators were undecided going into the vote.
Put simply, the debate could go on for some time (right now, the Senate has an allotted 20 hours, though if nothing comes of this cycle, then the whole process might start over again later). There will definitely be a vote, though. Trump and McConnell seem to ready to do whatever it takes to get a health care bill passed — even if it means going back on some of their initial promises.
According to various reports, the GOP is planning on a "skinny" repeal of the ACA that would just get rid of some of the mandates in Obamacare, like the individual penalty for not being insured, and penalties for companies that don't offer plans. The Senate could also vote on a "repeal now, replace later" bill, which would repeal Obamacare and leave health care up in the air until they can write a new bill.
Each plan would be contentious and the Congressional Budget Office's ratings for the standing bills are grim. As past CBO scores have indicated, previous iterations of the Senate bill would leave so many people uninsured that moderate Republicans could be scared away from voting "yes."
It's going to be very tricky moving forward for the Senate and there will likely be some debate before the health care bill comes to a final vote. Hopefully a lot of it. But nothing is certain.