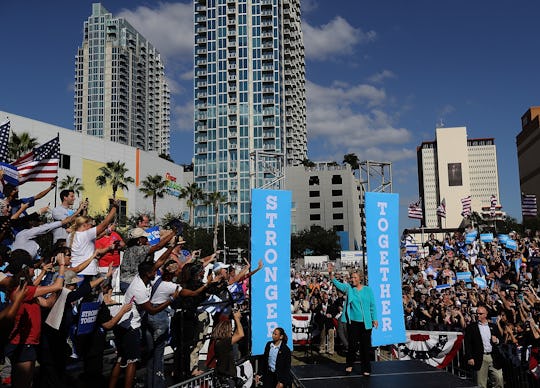 Justin Sullivan/Getty Images News/Getty Images
When Will Florida's Election Results Be In? Voters Are Already Anxious To Know
As political pundits have noted from the beginning of the election, Florida is a key, battleground state in the 2016 presidential election. As early voting got underway, the Democrats (and their chosen candidate, Hillary Clinton) were enjoying a small edge over the Republicans and Donald Trump, according to a RealClearPolitics average that put the former at 46.8 percent to Trump's 45 percent (as close as one can expect in such a big swing state). With such a close race and so much at stake, Florida's election results will be hugely important, and the electorate and analysts alike are keeping an eye on it.
While these numbers represent how voters are registered rather than the way they actually voted, they do indicate a close race for Florida. And of course, all polls are not created equal; according to POLITICO's Battleground States Polling Average, Clinton has over a 3 percentage point lead in Florida, where Trump once held a decisive lead. Trump is taking the possibility of a victory for Clinton in Florida seriously; the Republican presidential nominee has gone on a wild seven-city tour of the state to recover some of his fan base.
Trump naturally claims that the data is incorrect, but isn't about to take any chances this late in the game. Clinton, not to be outdone, has inundated the Florida airwaves with campaign ads and recently spent a few days there campaigning to seal her slight lead. With Nov. 8 (Election Day) looming large and getting closer all the time, Florida, with its 29 electoral votes, is clearly key, and each camp knows it. But when will we know how the state voted for certain?
According to The Washington Post, a judge granted Floridians a one week extension for voter registration due to Hurricane Matthew. The re-worked voter registration deadline was Oct. 18; Early voting has been underway since Oct. 24 and will continue until Nov. 5. Nov. 8 will see the entire country voting for the next President of the United States.
While the official vote by the Electoral College won't happen until Dec. 19, the results of the general election are usually filtering in before midnight which should give voters a clearer picture of what Nov. 9 might look like. According to USElectionAtlas.org, in 2008, for example, the race in Florida was called for Obama at around 11:16 p.m. In 2012, under unique circumstances, Republican Mitt Romney conceded the victory to President Obama the following morning after Election Day, as the Romney campaign admitted, though the margin was small, that its candidate had lost (albeit gracefully).
In other words, while the race in Florida may seem to swing one way or another on election night, an early tally, though commonly released the night of, could carry over into the subsequent days.
Of course, there have been other difficulties in the past which could very well crop up again. During the 2000 presidential race between Vice President Al Gore and eventual-President George W. Bush, Gore was granted an official, automatic recount of votes in Florida, due to the minuscule number of votes separating the final tally. While the recount found that Bush won the state with only 537 votes, the recount was historic nonetheless. And this year we could be making history again, as Trump has hinted broadly that he could contest the election results. But only if he loses (if he wins, it's all good).
It should be interesting to see the Florida election results. Keep your eye on social media and the television on election night — it's bound to be a wild ride.