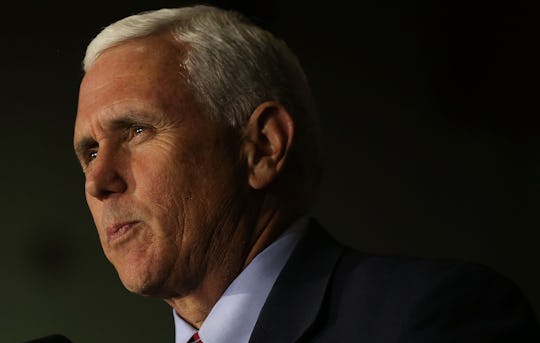 Spencer Platt/Getty Images News/Getty Images
When Will LaGuardia Reopen? Mike Pence's Plane Has Suspended Air Traffic
Republican vice presidential nominee Mike Pence's campaign plane slid off the LaGuardia Airport runway late Thursday evening, landing in a patch of grass after tearing up a reported two tracks of runway concrete. No injuries have been reported and the Governor of Indiana was checked and cleared by emergency personnel, according to NBC News. However, LaGuardia air traffic has been suspended, leaving many travelers wondering, "When will LaGuardia reopen?"
While it seems somewhat unkind to worry about travel plans during an emergency, since no injuries were reported the general public can shift their thoughts to flight delays and cancelations, instead of more serious and dire fears. According to MSNBC, 30 people were onboard Pence's campaign plane, including his wife, Karen Pence, and his daughter, Charlotte. The plane was traveling to New York City by way of Ford Dodge, Iowa, where Pence had previously participated in in a campaign event. Republican presidential candidate, and Pence's running mate, Donald Trump has reportedly reached out to Pence, saying he's, "Glad everyone on board is safe," according to a statement issued by Tump's campaign.
Prior to departure from Iowa, Pence tweeted a picture of himself throwing a football on the tarmac, his flight delayed to LaGuardia for a reported two hours due to adverse weather conditions. There's been no formal statement as to why the potential vice president of the United State's plane slid off the runway after landing, however it's worth nothing that Trump has previously describe LaGuardia Airport as a "third world airport." During the first presidential debate, held at Hofstra University, Trump said,
You land at LaGuardia ... you come in from China, you see these incredible airports, and you land — we've become a third world country.
The last presidential debate was held on Oct. 19, so Trump will have to make any further comments as to the state of Laguardia Airport at one of the many rallies he intends to hold between now and Nov. 8, when the public will cast their vote for president of the United States.
Pence has since tweeted from his account that he's "thankful everyone on our plane is safe," and that he will "back on the trail tomorrow." You know what they say, there ain't no rest for the wicked.
In a statement released by the New York Port Authority, no flights are taking off or landing at LaGuardia due to the incident. Officials went on to say that they hope to resume flights shortly, but were unable to give an exact time as to when that may or may not be.