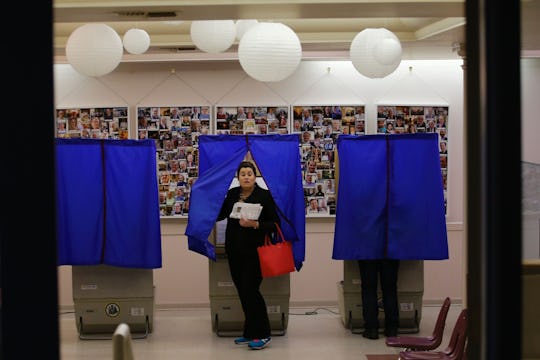 EDUARDO MUNOZ ALVAREZ/AFP/Getty Images
When Will Pennsylvania's Election Results Be In? It's An Important Battleground State
With little more than a week to go until Election Day is finally here, many exhausted Americans are feeling excited to commit this caustic, bizarre campaign season to the history books — and, oh yeah, find out who our next president will be. On Nov. 8, the answer to that question will unfold incrementally, with county-by-county results emerging throughout the night as the polls begin to close, exit polls are considered, and actual votes counted. This year's swing states will undoubtedly get the most attention, as they'll play a major role in determining whether it's Hillary Clinton or Donald Trump who moves into the White House in January. Those anxious to know ASAP will definitely want to be alert when Pennsylvania's election results begin to roll in, because the Keystone State could contribute to the making or breaking of either candidate.
Just as it's tough to call with 100 percent certainty who will emerge victorious next week, it's also impossible to definitively predict exactly when any one state's election results will be available. Pennsylvania does not host any early voting opportunities, so voters who didn't get their hands on an absentee ballot beforehand will head to the polls between 7 a.m. and 8 p.m. next Tuesday. And according to The Telegraph, it's the East Coast states that generally offer the first predictions (different times zones surely are a factor), and it's usually pretty clear who will earn those coveted 270 Electoral College votes by about 11 p.m. Eastern Time.
In 2012, President Barack Obama earned 52 percent of the vote in Pennsylvania, compared to Republican nominee Mitt Romney's 46.8 percent. Obama, in turn, collected all 20 of the state's electoral votes and went on to claim the presidency for the second time. Four years later, Pennsylvania is projected to again vote blue: A RealClearPolitics average from Sunday shows Clinton beating out Trump by a margin of 5.4 percent — even though energy industry workers in western Pennsylvania are much more enthused about Trump, as The Atlantic reported in September.
Just as each of the cable news outlets and pretty much every media outlet in the country will be aggressively, obsessively covering the election's developments throughout the evening, Politico will offer real-time updates of outcomes. Using the site's tool, Pennsylvanians and all Americans can check in to see who won each county as results come in, as well as check on the Senate race between Democrat Katie McGinty and Republican incumbent Pat Toomey.
Before Pennsylvanians can learn who won their state, though, it's imperative that everyone who's eligible to do so get out and actually vote. Democracy works best when people participate, not just passively learn the results at the end of the night.