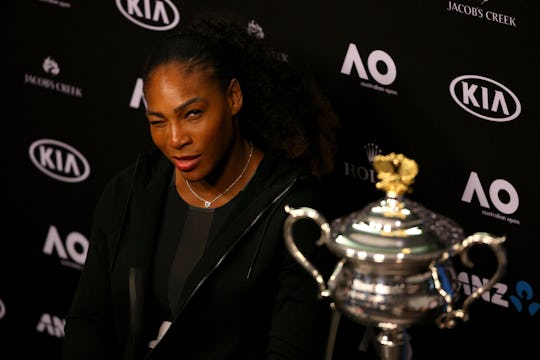 Michael Dodge/Getty Images Sport/Getty Images
Will Serena Williams & Alexis Ohanian Marry Soon?
It's not exactly news that tennis star Serena Williams is expecting her first child with fiancé Alexis Ohanian, a co-founder of Reddit. And that the two of them got engaged not all that long ago. With so much exciting stuff happening in Serena's life, fans are asking: when will Serena Williams and Alexis Ohanian get married? They're always looking for updates, but it sounds like Williams and Ohanian are taking their time in the wedding planning department.
Williams announced her pregnancy in a Snapchat post, and though she later deleted the post, her publicist Kelly Bush Novak, confirmed that the sports superstar is pregnant, according to Express. She used a digital medium to announce her engagement to Ohanian as well, breaking the news in a poem on Reddit according to People — which fit well, since Ohanian is a co-founder of the popular forum website.
But since then, Williams doesn't appear to have rushed into planning the affair When she was asked about her engagement after a recent match, she stated, "I really haven't thought about it too much, because I wasn't even really going to think about it until after the tournament," according to ABC News. That's some laser focus and commitment right there.
Though Williams hasn't been super forthcoming with news of her upcoming nuptials, her sister Venus spoke to People about the engagement and wedding planning that's going on.
In March, at the Citi Taste of Tennis event, Venus said, "I am so exited for Serena...She is so prolific on the court, but now I am happy to watch her prepare for her wedding!" Though Venus isn't sure what role she'll play in the event, she knows she will be an important part of the wedding party, according to People.
We are not sure what is happening with who doing what yet...You know there are a lot of sisters in our family! But I am looking forward to doing whatever Serena asks.
If there haven't been any plans to organize the wedding party, it's probably safe to say the planning of the affair is still in its' early stages.
But in early April, Williams posted a photo of a lace veil on Instagram, and it definitely got her fans talking.
"Romantic lace. Very pretty. #inspired #fashion," the post was captioned. But the photo had no other hints, leaving people to wonder — could this be the piece Serena wears on her big day, or is she just shopping around? Or, another possibility: is she just playing her fans and the social media world? Because she must know people are waiting for news of the event.
In January, Perez Hilton reported that Williams and Ohanian haven't picked a wedding date. But with tiny tidbits of information on planning like that Instagram post, it seems that things are coming along slowly but surely for the couple.
Of course, there is no need to rush anything. Williams and Ohanian have plenty of time to plan the event, and certainly don't need to speed things up just because the athlete is pregnant. It's totally their decision when they get married, and whatever they want fans and followers to know about the affair is their choice too.