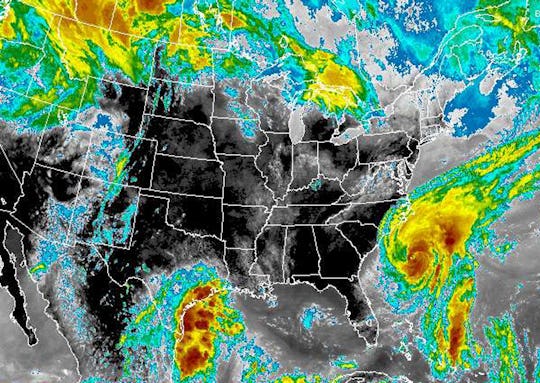 Handout/Getty Images News/Getty Images
When Will The Tropical Depression Hit Florida? It Could Worsen The Spread Of Zika
It looks like Florida might be in for a rough week weather-wise, and the ramifications of more rain and flooding could prolong the spread of Zika, too. When will the tropical depression hit Florida? Meteorologists predict it will become a full-fledge storm by mid-week, hitting Florida on Thursday.
A tropical depression is the not-so-calm before the storm, because it's basically the first stage of a hurricane. Even though it sometimes feels like hurricanes come on fast and strong, they can be growing for two to three weeks before they "hit," and for a while they're circling in the atmosphere as what's called a tropical depression.
A tropical depression forms over the ocean when low pressure areas combine with thunderstorms to produce circular wind flow. When the wind speed picks up and you start hearing about "gusts of wind" on the weather report, it's usually started to upgrade from a depression to a storm. And a storm can, but doesn't always, become a hurricane.
Sometimes a tropical depression doesn't evolve into a storm, it just sort of fizzles out. If it does evolve into a storm, though, that process can happen rapidly; sometimes in just a half a day. The conditions of the atmosphere above and the ocean below plays a role in how fast depressions become storms, and storms become hurricanes.
The tropical depression that's hanging out now, headed for Florida, began developing on Sunday and has progressed over the last few days along the Gulf Coast. According to Accuweather, the center of the evolving storm was about 240 miles to the west of Key West, Florida on Tuesday and is expected to make landfall, bringing in heavy rains, flooding and high winds, on Thursday.
In addition to the risk of flooding, mudslides, damage from heavy rain, wind, and things like power outages, these conditions are not what Florida needs right now in the wake of the continued spread of Zika virus.
Zika virus, remember, is spread by mosquitoes. Mosquitoes are insects that breed and thrive in standing water, of which there will be much, much more throughout the state after this bout of heavy rain — up to 10 inches in some areas — hits later this week.
Florida municipalities have been attempting to make sure that areas prime for mosquito breeding are removed as soon as they are discovered, but after a storm like the one they're getting this week, that workload could quickly become overwhelming.
The Florida Department of Health continues to advise residents of the state to "drain and cover" any standing water in their yards and make sure to cover screens on doors and windows to help keep mosquitoes out of their homes.
But, as USA Today medical reporter Liz Szabo pointed out, the mosquitoes that love to breed and hang out in marshes and standing bodies of water, like puddles, aren't necessarily the same breed that spread Zika. So, an uptick in mosquitoes after the heavy rains expected Thursday doesn't necessarily mean there will be more Zika spreading mosquitoes in the state.
The Miami Herald's interactive daily Zika virus tracker shows that, as of the beginning of this week, the number of cases has continued to rise, with the Miami-Dade region seeming to be hit the hardest. The state of Florida has seen almost 500 cases total, 471 of which were travel-associated cases, meaning very few people have been infected through local transmission of the virus.