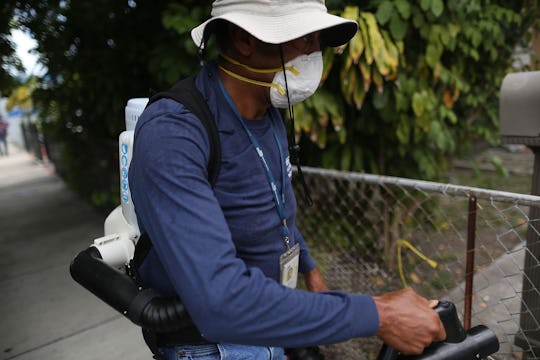 Joe Raedle/Getty Images News/Getty Images
When Will Zika Mosquitoes Arrive In New York? It's Difficult To Predict
The threat of the Zika virus in the United States became all too real last week when it was reported that infected Aedes aegypti mosquitoes had finally made their way into Florida. Now, people are wondering if and when Zika mosquitos will arrive in New York. Unfortunately, nobody can say for sure, though it's a definite possibility. According to Medical Daily, Florida is the first U.S. state to report locally-acquired Zika, meaning cases that weren't sexually transmitted or picked up while abroad.
Zika is known to be transmitted by the Aedes aegypti mosquito, and may also be carried by its cousin, Aedes albopictus, though that's still not confirmed. Aedes albopictus is native to New York, and Aedes aegypti has been spotted there before. But so far, no locally-acquired cases of Zika have been reported anywhere north of Florida. The New York State Department of Health conducts weekly tests of local mosquitoes, and the most recent report, dated July 27, did not find any Aedes aegypti. New York has developed a six-step action plan to address the Zika threat. In addition to monitoring the mosquito population, the state has launched a public awareness campaign, created a rapid response team, developed Zika control plans for high-risk counties, and will provide free Zika protection kits to low-income pregnant women.
The best way to prevent Zika infection is to prevent mosquitoes, so citizens are encouraged to eliminate standing water on their property in order to discourage breeding. According to the Centers For Disease Control and Prevention, mosquitoes don't need much water to breed; an overturned bottle cap provides more than enough. New York residents who have standing water on their property that can't be emptied, such as a birdbath, can call 1-888-364-4723 to receive free larvicide tablets to use in such cases.
Even if Aedes aegypti and its accompanying Zika virus don't make it to New York before mosquito season ends in the fall, it's always a good idea to avoid bites, not just because they're a nuisance, but because they can also carry West Nile Virus. The NTSDOH has reported 11 mosquito pools that tested positive for West Nile this year. According to the CDC, mosquito bites can be avoided by using air conditioners or window screens and bed nets, wearing long sleeves and pants, and using EPA-registered insect repellents containing DEET, picaridin, oil of lemon eucalyptus, or IR3535. Failing that, we could all just move to the North Pole until November.