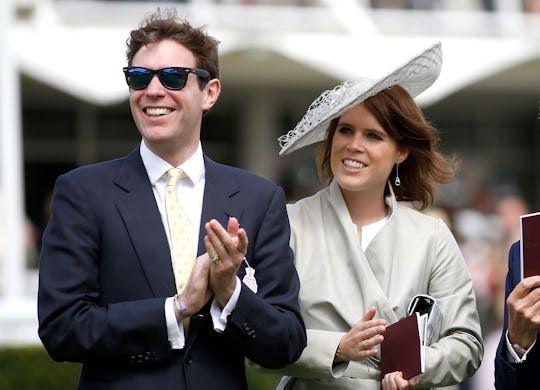 Tristan Fewings/Getty Images Entertainment/Getty Images
Princess Eugenie & Jack Brooksbank's Home Comes With Some Snazzy Perks
Queen Elizabeth II's granddaughter, Princess Eugenie, is set to walk down the aisle this Friday and marry her fiancé, Jack Brooksbank. All of the details surrounding the second royal wedding of the year are so exciting and royal watchers want to know everything about the couple. And if you're wondering where Princess Eugenie and Jack Brooksbank live, you're certainly not alone.
Not much will change about Princess Eugenie's living arrangements once she walks down the aisle of Windsor Chapel and says her "I dos" to Brooksbank in just a few short days. After leaving for their honeymoon (the destination is still unknown, according to Marie Claire), the couple will return to their home in England, according to Cosmopolitan. And it isn't going to be a new home — it's a home that they've been familiar with for some time.
Princess Eugenie and Brooksbank moved in to Ivy Cottage inside of Kensington Palace in April, according to Town & Country, choosing to live together for a few months before their wedding. Because the best way to know if you really want to marry someone is to see how well they share a bathroom, right? So Brooksbank must have passed the test.
Ivy Cottage sounds like the perfect place for newlyweds to live — especially since Princess Eugenie had been living in an apartment inside of St. James' Palace before this, according to People. The home has three bedrooms, according to the Daily Mail, and was the home to the deputy head of the palace's property section (that's a mouthful) for quite a few years until 2016. The palace — which has been in the royal family for generations, and was once the home of Princess Diana, according to the Daily Mail — has its own 24-hour armed police security, private gardens, which means it is a home fit for a princess (seriously).
Not to mention, living in Kensington Palace comes with the perk of having some pretty amazing neighbors. Princess Eugenie and Brooksbank live a stones throw away from Prince William, his wife, Kate Middleton, and their three adorable kids, according to Business Insider. And when Prince Harry and wife Meghan Markle got married this past May, they moved to a new home in Kensington Palace which is even closer to Princess Eugenie and Brooksbank, according to The Telegraph. But rumor has it that Princess Eugenie and Brooksbank reportedly have a bigger home than the Duke and Duchess of Sussex.
Given that Princess Eugenie is cousins with Prince Harry and Prince William, it is likely that they're pretty used to seeing each other at family gatherings and have gotten quite close throughout the years. So, having both of them as neighbors must be pretty fun, too. This also means that Princess Eugenie gets to see Prince William's super cute kids all the time, which is a definite perk of living in Kensington Palace.
But her cousins aren't the only famous people who live on the grounds of Kensington Palace. The Duke and Duchess of Kent as well as the Duke and Duchess of Gloucester are other the members of the royal family who call the palace their home, according to The Telegraph.
This means that Princess Eugenie and Brooksbank will never be alone. If they ever need a helping hand, someone to talk to, or a cup of sugar, they can always rely on one of their many neighbors for any of these things. Out of all of the neighbors to have in the world, Princess Eugenie's and Brooksbank seemed to have lucked out.