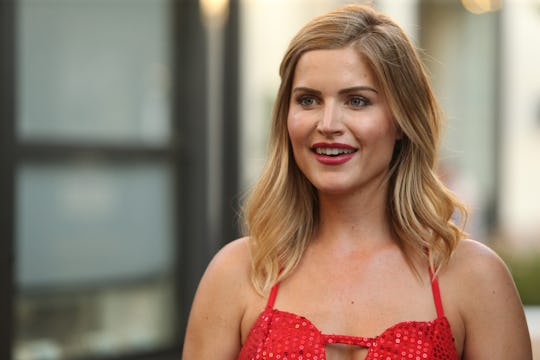 Paul Hebert/ABC
Chelsea & Arie Could Face A Major Obstacle On 'The Bachelor'
It seems like every season of The Bachelor/The Bachelorette has at least one single parent in the contestant pool, as if to ask its star "but how serious are you really about settling down and starting a family?" This season, it's Chelsea, a real estate executive assistant and mom of one. Early on, it seemed like she was going to get the villain edit this season, but after redeeming herself in a conversation on the most important discourse of our time (glam-shaming), things might be turning around for her. So where is The Bachelor's Chelsea from? This contestant hails from South Portland, Maine.
Chelsea made waves early on in the season when she positioned herself as a frequent interrupter of one-on-one time, and then justified it by saying that she was a mom, so she deserved more time with Arie than the other women. That's... not how that works, but luckily for Chelsea, Krystal has risen the ranks to become a far more annoying character this season and the clear frontrunner for the official title of villain. Plus, Chelsea had a hilarious turn in the bonus scene of Week 4, where she defended herself against Marikh's accusation of glam-shaming. In a cutaway interview, she very seriously declared, "I've never been accused of being anti-glam. I am a former model... For the record, I am and have always been pro-glam." Glad the record is straight on that.
It looks like Chelsea continues to court enemies later this season with her aggressive and assertive dating style, especially on group dates. She's determined to not only get in her alone time with Arie, but also to make him see that she can still be sexy even though she's a mom. In a preview, we see her make out with him in (sort-of) full view of the other women while riding a jet ski together on a group date. It's understandable for Chelsea to be charging at full speed into the relationship to see if they really are compatible, instead of wasting time away from her three-year-old son Sammy. But her sharp-elbowed way of going about it is not earning her the best edit.
Obviously, if Chelsea and Arie were to wind up together, there would be some relocation bugs to work out. Arie lives in Scottsdale, Arizona, near his family, in a home he owns, and he's licensed to practice real estate there. Chelsea lives clear across the country in New England, and shares joint custody of her son with his father, which could inhibit her ability to move. In a recent interview with Glamour, however, Chelsea sounded pretty flexible.
"I share custody with Sammy's father, so there is a lot of down time," she said. "I want to go on adventures, and I see that Arie is a traveler, so I'm so excited about that, because that is absolutely what I love to do."
Whether or not the pair end up together in the end, Arie has lots of experience dating moms, so I'm pretty confident that he'll be respectful of Chelsea's time. We first learned of his history during Emily Maynard's season of The Bachelorette: she was a single mom too, and so she was obviously looking for guys who were ready to take on the insta-family they would gain by marrying her. Arie came in like a breath of fresh air, revealing that he'd previously had a live-in partner who was a single mom, so he was totally comfortable with it. It was a relief to both Emily and Chelsea when they learned this information. Stay tuned to find out if Arie gets to meet Sammy down the road!