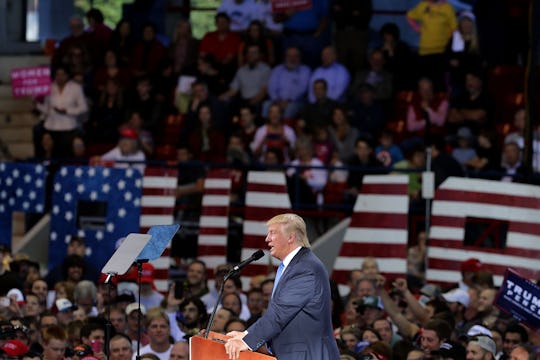 Chip Somodevilla/Getty Images News/Getty Images
Where Is Donald Trump During Election Night? The Big Apple Is The Place To Be
Election night is finally upon us. While the entire country has essentially ground to a halt, waiting with baited breath to see which nominee will reign supreme in the polls, two people in particular must be having one heck of a nerve-wracking night. As anxious as the rest of us are while watching the results come in, it has to be so much worse for both of them. So much riding on this one night, so many months (and years) of preparation... and now here they are. So if you're wondering where Donald Trump is during election night, he's actually not terribly far from his rival, Democratic nominee Hillary Clinton.
Both Clinton and Trump will be watching the election night results roll in from New York City. In fact, The Washing Post noted that Trump's campaign crew is holding an election night event at the New York Hilton Midtown, while Clinton and her camp will be hosting an event at the Jacob K Javits Center, which just so happens to have a very appropriate glass ceiling. This is a pretty historic move to have both candidates in the same city for election night. In fact, it's the first time New York City will host both candidates for the big event since 1944, according to ABC News. Considering how, er, unusual (read fractious, contentious, aggressive), the 2016 Presidential campaign has been to date, the unusual move to have both candidates in New York City for election night actually seems pretty tame.
Tame unless you are the already terribly overworked NYPD, that is. The Secret Service and New York Police Department are hard at work amping up security around both locations to keep the nominees safe. And ABC affiliate notes that there will be a "frozen zone" around each location before the candidates arrive and the streets surrounding both will be closed off to the public. No trucks will be allowed to pass through Fifth Avenue, Sixth Avenue, or Madison Avenue beginning at 6 a.m. on Tuesday.
Additionally, the Daily Mail reported that more than 5,000 officers will be patrolling the New York streets during election night. During a press conference on Monday, Chief of Department Carlos Gomez said, "this is by far the largest election detail that the NYPD has ever had."
Although potential violence would be a concern during any election, the divisive nature not only of these two presidential candidates, but also between their voting public has the police on high alert. Mayor Bill De Blasio shared his confidence in the police department's ability to quell any potential violence on election night. He told reporters on Monday that officers would be on site at every one of the city's 1,200 polling stations, and that "we have beefed up our ability to handle multiple sites simultaneously."
As for non-domestic threats of violence, the Secret Service will be on hand specifically to protect each of the presidential candidates. John Miller, the NYPD's deputy commissioner of intelligence and counterterrorism, did acknowledge some alleged threats from ISIS for election night, but isn't worried because:
ISIS puts out these threats widely over their social media before many events. We've seen them before holidays. We've seen them before special events. This is part of their M.O.
Whatever the outcome of the 2016 presidential election may be, one thing is for certain — it's going to be a night no one in history will soon forget. Truthfully, I kinda wish I was in New York City right now. It's basically the center of the universe.