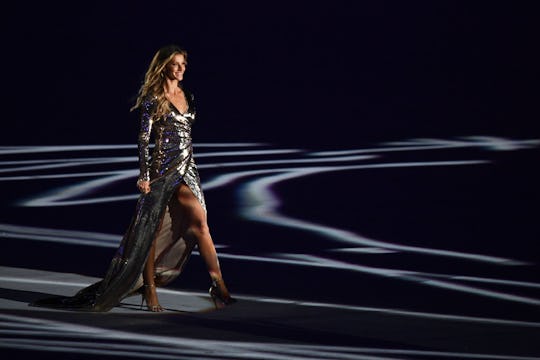 FRANCK FIFE/AFP/Getty Images
Where To Buy Gisele Bundchen's Rio Opening Ceremony Dress?
After strutting down the thousands of runways throughout her career, the retired, internationally beloved supermodel Gisele Bündchen took her longest walk ever: across the 2016 Rio Olympics opening ceremony. Werking the entire stadium, Bündchen stunned in a floor-length, breathtaking and sparkling gown that was every inch as exciting as the show taking place all around her. The dress was such an international thriller that everyone is likely wondering where can you buy Gisele Bündchen's Rio opening ceremony dress?
According to Vogue.com, Bündchen's dress was designed by Brazilian Alexandre Herchcovitch, and the designer revealed that the gold sequin column gown took four months to make. Discussing the details of the dress exclusively on Vogue.come, Herchcovitch said that the gown was a "long dress, with a long train, pierced at the front, with pleats at the waist. It has long sleeves, a deep V-neck, and a thigh-high slit, leaving the legs fully exposed. The fabric is a mesh, covered with bright golden sequins, double-sided, embroidered horizontally." Bündchen walked the stage in front of nearly 80,000 fans to the song "The Girl From Ipanema" and immediately after, she took to the stands to celebrate along with her countrymen and women.
Earlier this year, Herchcovitch announced he'd be leaving his namesake brand to work exclusively on developing the clothing line for À La Garçonne (ALG), his husband's brand. And in his interview with Vogue.com, Herchcovitch teased just how different his work for ALG will be. For starters, it's nothing like the look we saw Bündchen wear tonight. "À La Garçonne focuses on sustainability and the reuse of vintage materials," Herchcovitch said. And the line, which, fittingly enough, will sell through the retailer Opening Ceremony, couldn't be more of a departure from the one we saw on the opening ceremony catwalk.
He said,
It's very different than what we are seeing here with Gisele. The selection at OC is very precise; they bought what they judged fresh and exclusive, pieces they haven't seen from other brands, such as military jackets in cotton and leather Perfectos that are both vintage and hand-painted.
All of this is to say that the likelihood that recreations of Bündchen's show-stopping opening ceremony dress will be hard to find. Given that the ALG line will be so different than Herchcovitch's signature creations (and signature sparkle), it's not totally out of the park to assume that the dress designed for The Olympics was one of a kind. But maybe it's better that way? A dress filled with all that magic — and all that sparkle — is kind of a once-in-a-lifetime thing, is it not?