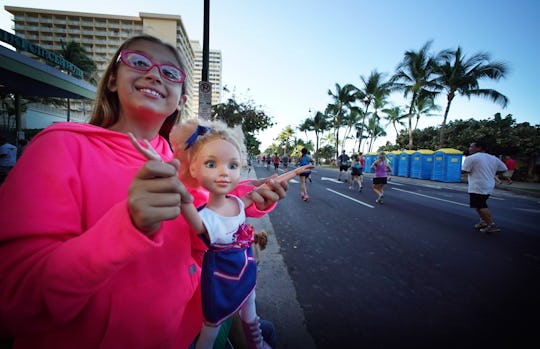 Cory Lum/Getty Images Sport/Getty Images
Where To Buy Olympian American Girl Dolls For The Next Generation Of Athletes-To-Be
The 2016 Summer Olympics in Rio have been amazing to watch, but as a mom of a little girl, it's been especially exciting to see just how many incredible female athletes have been competing — and winning. Katie Ledecky, Simone Manuel, Lily King, Aly Raisman, Simone Biles, and Gabby Douglas (and many others) have all taken home gold in their respective sports, and that's meant that girls across the country have had the opportunity to watch strong female competitors kicking butt and taking names at pretty much every turn. Even the popular American Girl doll line has gotten into the action, giving girls a chance to outfit their look-a-like dolls in Olympic-style outfits, so that not only can they watch these formidable athletes on TV, they can recreate what they've seen when they play at home. If you're wondering where to buy Olympian American Girl dolls, the good news is, there are actually a number of different options for customizing your own Team USA-inspired doll.
The American Girl doll line — owned by Mattel — is hugely popular among young girls and tweens, but its appeal extends far beyond the dolls themselves. American Girl-inspired videos are all over YouTube, and some people have even given their American Girl dolls their own Instagram accounts. Then, of course, there are the stores themselves, where girls can take their dolls to special doll salons where they can get their nails painted and ears pierced (yes, I am serious). In other words, being an American Girl fan is pretty serious business.
With the inclusion of Olympic-related accessories though, girls have the chance to move away from just the beauty-and-dress-up fascination and towards being able to envision their dolls (and, really, themselves) as future Olympians, and all that it entails. If you've never owned an American Girl doll, the first step would be to choose the doll itself — the TrulyMe line is available with "40 different combinations of eye color, hair color and style, and skin color," which is pretty cool. The dolls can be ordered online through the American Girl website, or in one of the many stores throughout the country (there is even a store in Canada and another in Mexico). As for what your doll should wear? This year, the brand has released its "Stars & Stripes Set" for the Olympics, which includes an Olympic-inspired gymnastics leotard, a swimsuit, a swim cap, goggles, and, of course, a gold medal.
But getting the doll is just the beginning. Thanks to some seriously dedicated YouTubers and bloggers, there is some great inspiration available for how to give your doll a truly Olympic experience. Want to build your own tiny set of uneven bars for your doll? You can do that. Or maybe a gymnastics mat, balance beam or cheese mat (hooray, creativity). Some have even gone as far as to fashion their own DIY American Girl doll swim meets:
If DIY isn't your style, then Etsy is another great resource for Olympic-related American Girl items. There, you can purchase Team USA t-shirts for your child's doll, a pre-made gymnastics set, a variety of leotards, and gold doll medals galore.
Of course, American Girl dolls aren't the only way to encourage young girls and boys to see in themselves the potential to be just as strong, active and focused as their Olympic heroes, but they do at least give them the option to move beyond playing "hair salon" or "mom and baby" to "world-class athlete bringing home gold." And as all the Team USA ladies are proving in Rio this year, that's definitely a goal they can accomplish with a dream and a lot of hard work.