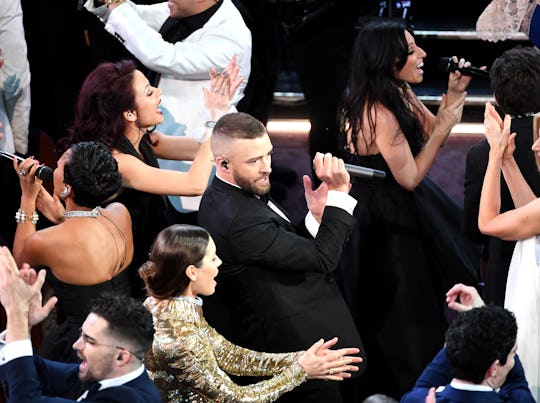 Kevin Winter/Getty Images Entertainment/Getty Images
Listen To The Oscars "Can't Stop The Feeling" Now
The 89th annual Academy Awards are tonight and, as usual, the show started on a high note. Justin Timberlake opened the show with a spirited rendition of "Can't Stop The Feeling," and it's sure to be one that you'll want to listen to for days to come. So it only makes sense that people are wondering where to listen to the Oscars "Can't Stop this Feeling" remix right now.
Typically, the musical performances at the Oscars tend to occur in the middle of the show. But things were switched up during the 2017 award show, presenting Timberlake with quite the challenge. I mean, he had to get a room full of celebrities in a good mood before a long night of envelope ripping and Donald Trump jokes. And, based on the Twitter reactions alone, it seems like he delivered.
Timberlake got the show off to a fun start by performing his Oscar-nominated song "Can't Stop The Feeling." Straight from the Trolls soundtrack, the song has an upbeat tempo and positive lyrics, making it an instant mood booster. So it's no wonder that he was able to get the crowd moving. (I mean, did you see Denzel Washington getting his groove on in the audience?)
If you missed the move-busting performance, the best place to currently catch the performance is on Twitter, with many accounts sharing clips of the song within an hour of its' airing. There will likely be more places to watch tomorrow, but who can wait that long? There's a chance the remix of the song might be available for download at a later time, since it was such an iconic moment from the awards show. For now, video of Justin Timberlake's Oscar performance is available to watch on YouTube as well.
"Can't Stop the Feeling" is definitely a song that's easy to "boogie" to, and the remix was just as dance-worthy on Oscars night. There are clearly several sources to check it out and get dancing in your living room, but so far, only video of the performance is available via places like Twitter and YouTube.
So what if you want to listen to the Oscars remix of the song later on? It might be a good idea to check out iTunes or similar sources tomorrow for a download.
It remains to be seen whether Timberlake's song will win the big award at tonight's Oscars, but after his performance of "Can't Stop the Feeling" at the show, he certainly deserves some sort of accolades. Stay tuned.