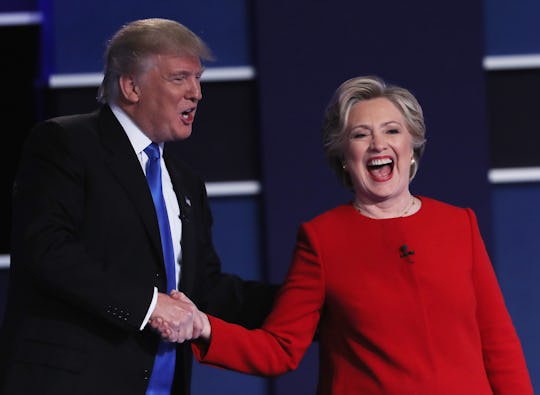 Spencer Platt/Getty Images News/Getty Images
Where To Watch The Second Presidential Debate, From Your Laptop To The Big Screen
Our grueling election season drudges on and though it's not even November yet, it's already time for another presidential debate. The first event of this kind brought unforgettable moments (remember Democratic candidate Hillary Clinton's shoulder shimmy? Republican Donald Trump's constant "Wrong!" refrains?), and it's likely that round two will get even more heated, producing some priceless gifs and soundbites. Here's where to watch the second presidential debate when it airs this Sunday, Oct. 9, because you'll definitely want to be in the loop come Monday morning.
Like the one before it, the second presidential debate will be streamed in addition to it being aired commercial-free on major news networks. If you're watching the debate on your TV (you know, the old fashioned way), you can tune into C-SPAN, ABC, CBS, CNN, Fox News, MSNBC, or NBC at 9 p.m. ET, and you're all set. Additionally, Bloomberg News, Buzzfeed News, Hulu, Huffington Post, PBS, Politico, The Washington Post, Telemundo, Twitter, and YouTube will all be live-streaming the debate — and that list isn't even exhaustive. Virtually every news outlet agrees: This is must-see TV and all eyes are on Trump and Clinton. Who knows, maybe the viewership will even higher this time around, as the first presidential debate was the most watched presidential debate of all time.
The second debate, 90, commercial-free minutes long, will carry some obvious similarities to the first, but also some key differences. The candidates will be given two minutes of response time per question. Held at Washington University in St. Louis, Missouri, the debate will also be town hall style. This means that, instead of a moderator dictating all of the questions, audience members will be able to pose topics, too. Half of the inquiries will be asked by so-called "citizen participants," and the other half will be asked by a moderator, whose subject matter will be "based on topics of broad public interest as reflected in social media and other sources," according to the Commission on the Presidential Debates' website.
This town hall format might put less pressure on debate moderators Anderson Cooper and Martha Raddatz, who hail from CNN and ABC, respectively. If anything, the previous encounters (i.e. the first presidential and only vice presidential debates) showed that viewers are especially critical of how the candidates are handled.
Some movie theaters are even choosing to host free debate screening parties. Held at some 206 locations nationwide, Regal Cinemas promises cinematic drama, as Steve Bunnell, Chief Content and Programming Officer at Regal Entertainment Group stated recently. "While our auditoriums feature the likes of Batman V. Superman or Alien vs. Predator," he said, "we are excited to offer voters a chance to watch Clinton vs. Trump as they go head to head on the big screen."
So even if TV and live-streaming aren't exactly your thing, don't worry. Find a theater showing the debate near you and be sure to get some popcorn — this is going to be a good one.