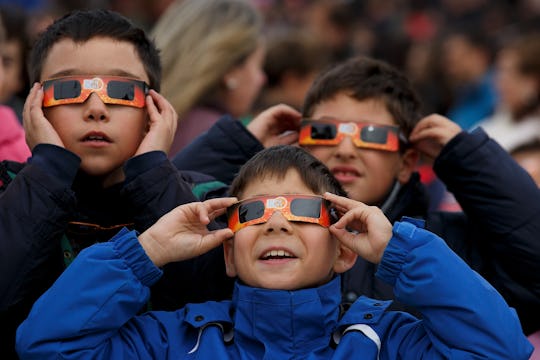 Pablo Blazquez Dominguez/Getty Images News/Getty Images
Where To Watch The Solar Eclipse In Chicago
On Monday, Aug. 21, the continental United States will be treated to its first total eclipse in 38 years. It'll also be the first eclipse to cross the country coast-to-coast in nearly a century, so it's definitely the kind of once-in-a-lifetime experience that you and your family will want to watch. Wondering where to watch the solar eclipse in Chicago? Don't worry — there are plenty of places that have you covered.
Chicago itself won't see a total eclipse, but the moon will still block about 90 percent of the sun when maximum coverage hits. The partial eclipse will start at 11:53 a.m. and end at 2:43 p.m. for those in the city, with peak darkness occurring at 1:19 p.m.
"The last time the contiguous U.S. saw a solar eclipse was in 1979, so some parents today weren't even alive," Amy Roth, the communications manager for the Aurora Public Library District, told The Chicago Tribune recently. "So they're super excited about it."
The next visible solar eclipse in Chicago won't come around for another seven years, so it might be worth it to book a couple of hours off work (if you can) and head to a viewing party. Here's a few places where you can join in on the fun:
The Adler Planetarium
The Adler Planetarium will be hosting Chicago's Eclipse Fest on Aug. 21, and it's calling the event "Chicago's biggest eclipse block party." The free event will have live entertainment, food trucks, eclipse updates, and activities for the whole family, and it looks like it will be an entertaining, informative blast.
Chicago Botanic Garden
This beautiful space will be hosting a free viewing party for the solar eclipse. Starting at 10 a.m., viewers can come in for free eclipse glasses and family activities. Make sure to bring a comfy blanket or chairs with you, too, so you can sit back and enjoy the show taking place in the sky.
360 Chicago
If you feel like watching the eclipse while getting down to some space-themed music, 360 Chicago just might be the place for you. The observation deck will be hosting a Solar Eclipse Dance Party on Aug. 21, complete with free viewing glasses and drink specials for the adults. If you buy your tickets early, you can get them for just $8, rather than paying $10.25 at the door. (Kids under 3 enter for free, while tickets for kids aged 3 to 11 cost $6.75.)
Chicago Public Library
It's usually where you go to get lost in a good book, but the Chicago Public Library will also be hosting eclipse viewing events. All library locations will be handing out free eclipse glasses up until Aug. 21, and there will be 20 different eclipse-viewing events (some featuring telescopes!) going on at library branches across Chicago on the day of the eclipse.
Once you've settled on a place to watch the eclipse, make sure to grab solar eclipse glasses for you and your friends or family ahead of time so that you can enjoy the stellar show safely. After that? Sit back and enjoy the historic experience.