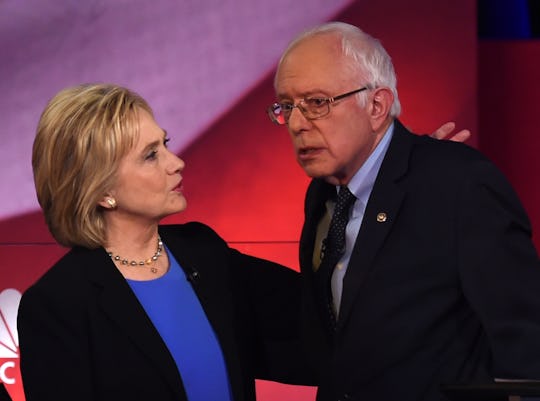 Timothy A. Clary/Getty Images News
Which Democrat Will Win Iowa? Strangely Enough, It All Comes Down To Martin O'Malley
A poll released Wednesday showed that Vermont Sen. Bernie Sanders had only the slimmest lead over former Secretary of State Hillary Clinton in Iowa, just days ahead of the Iowa caucuses, according to CNN. But, because the lead is so small, the New York Times reported that the two are essentially neck in neck in the state, which many believe can often predict who will become each party's nominee. Because Sanders and Clinton are so close to each other, it's difficult to predict which Democrat will win Iowa, but politics experts have said that the strange nature of the Iowa caucuses will put the race in the hands of former Maryland Gov. Martin O'Malley's supporters.
I know, that sounds really weird, but bear with me. O'Malley's support in Iowa has hovered right around a sad 4 percent, according to CNN. That same poll put Sanders' support at 49 percent and Clinton's support at 45 percent. But the poll had a margin of error of plus or minus 4 percentage points.
That small difference between Sanders and Clinton (so small that it's literally the margin of error) could be decided by O'Malley's tiny 4 percent, and here's why. The Iowa caucuses make sense for Republican voters. Caucus attendees show up, hear messages from candidates' representatives and supporters, then they cast a vote on a piece of paper. Those votes are tallied and the candidates are given proportional support in the national convention, according to CBS.
For Democrats, things get weird. Democrats across the state — in 1,681 precincts — will physically gather, supporters will give speeches about candidates, and then people who support those candidates will physically move into the corner of the room that represents the candidate they support. (It's like playing a weird summer camp game.) Then a count is taken to see how many supporters each candidate has, according to the Los Angeles Times.
And this is where O'Malley actually becomes relevant (Sorry, O'Malley). If a candidate doesn't get at least 15 percent support in a precinct, then he or she is declared "not viable," and his or her voters must move to another candidate's corner in the next half hour. The remaining candidates' supporters will then try to coax those "up-for-grabs" voters into their candidate's corner. Sam Lau, spokesman for the Iowa Democratic party, told the LA Times that it is indeed as ridiculous as it sounds:
It's like playful bribing, like 'c'mon I'll mow your lawn,' [but also] what issues are most important to you? Let me talk to you about that.
So O'Malley's tiny 4 percent actually matters to Clinton and Sanders because they're so neck in neck in Iowa. Tom Henderson, the Democratic chairman in Iowa's largest jurisdiction, Polk County, and an O'Malley supporter, told the Washington Post that he assumes more O'Malley supporters would join Clinton than Sanders. And a website called Predict It agrees.
But it's not that clear cut. Because Scott Brennan, a former chairman of the Iowa Democratic Party, told the Post that O'Malley's rhetoric about breaking up big banks and addressing income inequality sounds more like Sanders than Clinton.
Age could also be a demographic that affects the breakdown. For example, O'Malley supporters Sally and Jeff Fager of Mount Pleasant, Iowa, told the LA Times that they would back Sanders if necessary, and 61-year-old Sally Fager's reason was pretty interesting:
I'm kind of tired of the Clintons. They always have a little hint of scandal around them that just turns me off. I would love to be able to vote for a woman, but Bernie kind of speaks to me and some of the issues that I am really concerned about.
And, of course, Sanders has polled well with millennials, who like his social platform, his pledge to take money out of politics, and his hopes to make public colleges and universities free. So, if younger O'Malley supporters go for Sanders, and older O'Malley supporters feel like Fager, it seems Sanders could take the cake. But if younger O'Malley supporters prefer Clinton, like Henderson told the Post, and only some older O'Malley supporters are "tired of the Clintons," the tie — and the uncertainty — still stands.