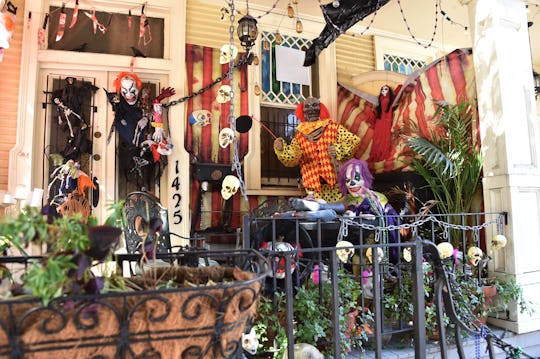 MLADEN ANTONOV/AFP/Getty Images
Which Target Halloween Decorations Were Recalled? They Are A Choking Hazard
This Halloween promises to be a strange one, even for Halloween Standards. Between the whole creepy clown intrigue, the upcoming election in one of the most divisive presidential races in American history, and the news that caramel M&Ms won't even be available until next spring, who knows what to think? And now the news of more recalls at Target. When will it end, I ask you? Target announced a massive recall of Halloween decorations due to a potential choking hazard, which is bad news for parents with little ones who like to put everything in their mouth. (So, like, every child under 2 years old old everywhere.)
Target has issued a recall of over 127,000 Halloween-themed LED gel clings. These LED gel clings light up when you push them, and come with two non-replaceable batteries. The reason for the voluntary recall, according to The Consumer Product Safety Commission, is that these window clings pose a potential choking risk for small children. In its recall summary, The Consumer Product Safety Commission said:
The gel clings can separate and expose the inner decal and LED/button battery compartment, posing choking and button battery ingestion hazards to children.
There are six different LED gel clings in total: a green skeleton, pink skeleton, purple spider, black cat, orange pumpkin, and black bat.
Target is offering a full refund to customers who have purchased the recalled window clings, and the model number 234-25-0904 will be printed on the packaging. The decorations were intended to be used on the inside of windows, making them all too easy to access for curious little fingers. And when you think of those bright little clings lighting up... it would be a pretty tempting sight to wee ones everywhere.
If you happen to have the LED gel clings around it would be a good idea to keep them out of the reach of the children if you don't plan on returning them to the store for a refund.
Luckily, there have not been any reported injuries caused by the recalled items, which retail in stores for around $1 apiece, at this point. These Halloween recalls have come at a rather inopportune time for Target, who has seen a fairly serious dip in its stocks (around 6 percent) in the last year as it struggles to keep up with retail giants like Walmart and Amazon.
I ask you this... when in the world did Halloween get so complicated? At least we get to pilfer some candy at the end, right?