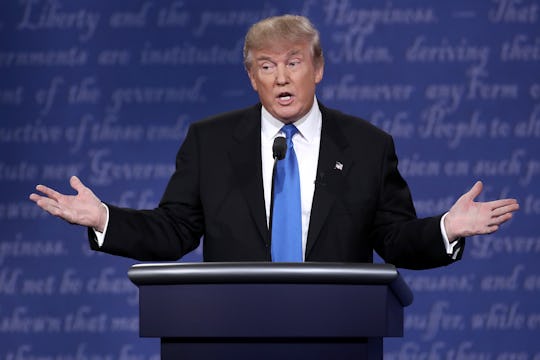 Win McNamee/Getty
Which Tweets Has Trump Team Deleted During The Presidential Debate? Here's What We Know
Donald Trump has not always been known for being great with things like facts. During Monday night's presidential debate, Hillary Clinton remarked that, while she was working to improve the environment, Trump did not even believe that global warming was real. Trump claimed he never said that global warming was a hoax, but the internet never lies. It was originally reported that Trump's team was scrubbing the evidence from his social media. Which tweets has Trump team deleted during the presidential debate? None, actually, but the receipts are there all the same.
While Trump's refrain throughout the debate was that he'd had tremendous success as a businessman, Clinton's was "look at the fact-checkers." Clinton said "Donald Trump thinks climate change is a hoax perpetrated by the Chinese." Trump responded firmly and immediately, "I did not. I did not say that." Except he definitely did. And anyone who follows Trump's Twitter account can see the receipts. And Esquire has gone one step further by gathering several tweets sent by Trump that claim that global warming is some sort of bizarre, internationally organized hoax created for trade purposes. I'm sure that this has gained him some support, but it's unclear why he's denying it so forcefully now.
This is far from the only time in the debate that Trump has outright lied about his record. Perhaps even more egregiously than he lied about global warming and his opinion that it is a hoax, Trump insisted again and again in the debate that he opposed the war in Iraq. This is, very simply, completely false. US News reported that Trump made statements in at least lukewarm support of invasion as early as 2002. When asked by Howard Stern whether he supported a potential invasion of Iraq, Trump said "I guess so..." No this is not exactly a ringing endorsement, but it's certainly not the strong and stalwart opposition that Trump has been describing. Yes, Clinton did vote in favor of the invasion in 2002, but it is a decision that she now describes as a mistake. Trump denies ever being in support of this war in the first place.
One of the most incredible things about Trump is that he routinely lies outright about things that are easily verifiable, such as his thoughts on global warming or the Iraq war. As Clinton said during the debate, Trump lives in his own reality, but facts are facts.