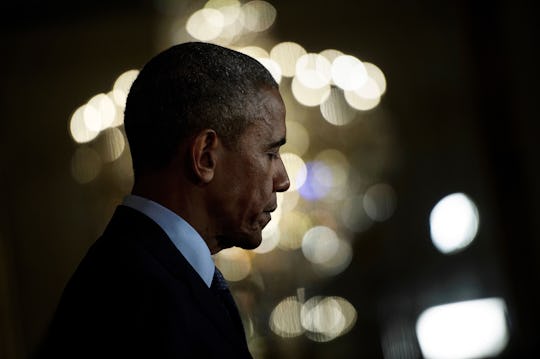 BRENDAN SMIALOWSKI/AFP/Getty Images
White House Responds To Istanbul With Words Of Support
Three suicide bombers attacked the Ataturk International Airport in Istanbul, Turkey on Tuesday. Turkish officials have reported that at least 36 people are dead, and over 140 have been injured, with numbers expected to rise. In the wake of the attack, the White House has responded to the Istanbul attack with heartfelt words of support to Istanbul, and it's that type of support that will set the bar for other countries to follow suit.
White House Press Secretary Josh Earnest compared the "heinous attack" to a similar terrorist attack at the Brussels airport in March. Like the Brussels airport, the Ataturk International Airport "is a symbol of international connections and the ties that bind us together," Earnest said in a statement Tuesday, according to a report by USA Today. He continued,
Our deepest condolences go out to the families and loved ones of those killed, and we wish a speedy recovery to those injured. We remain steadfast in our support for Turkey, our NATO ally and partner, along with all of our friends and allies around the world, as we continue to confront the threat of terrorism.
Secretary of State John Kerry spoke with reporters at the Aspen Ideas Festival but was unable to comment fully at this point. "We are still collecting information and trying to ascertain what happened and who did it," he said. "And I won't comment further on it except to say that this is daily fare. That's why I say the first challenge we need to face is countering non-state violent actors."
While no terrorist group has claimed responsibility for the attack yet, the Obama administration made comparisons to similar attacks that have been linked to the Islamic State.
Turkish Prime Minister Binali Yildirim said at a press conference that all signs pointed to ISIS in this attack. Yildirim told reporters that there had not been a security breach at the Ataturk Airport, the 11th largest airport in the world.
Meanwhile, Democratic Presidential Candidate Hillary Clinton issued her own statement on social media, similar to that of the White House:
Clinton condemned the terrorist attack while offering to "stand united with the people of Turkey." She was firm in her belief that the United States must "deepen our cooperation with our allies and partners in the Middle East and Europe to take on this threat."
Republican Presidential Candidate Donald Trump also condemned the attack.
Other world leaders have vehemently condemned the attacks, offering their support to the victims and showing a united front to possible terrorists:
As the world moves forward after the horrific attacks at the Istanbul airport, let's hope the White House has lead by example and fellow countries will follow suit, offering aide to Turkey and showing the terrorists a united front.