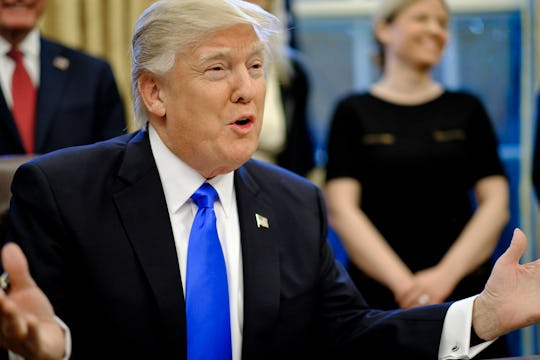 Pool/Getty Images News/Getty Images
White House Issues Excuse For Holocaust Omission
Donald Trump was busy on International Holocaust Remembrance Day Friday, signing an executive order to bar modern-day asylum seekers from gaining refuge in the United States. But in addition to at least temporarily eliminating refugee admissions similar to those that could have saved some of the millions of European Jews from their heinous fates more than 70 years ago, the president committed another galling affront to their memory: His administration didn't even mention them in its written commemoration of the genocide. And as the executive order banning travel to the country of nationals from seven Muslim-majority countries and suspending the refugee program has come under fire for being un-American, so has the White House's excuse for its Holocaust statement's omitting Jews, which at best, is shameful, and at worst, is a terrifying harbinger of the xenophobia and religious discrimination undoubtedly still on the new administration's agenda.
In the original, brief three-paragraph statement, Trump claimed to be remembering and honoring the "victims, survivors, heroes of the Holocaust" and to be "deeply grateful to those who risked their lives to save the innocent." However, the missive starkly contrasts those of his presidential predecessors in that it never alluded to the fact that raging anti-Semitism prompted the attempted extermination of Jewish people on the continent. Bill Clinton, for example, noted in 1993 that "one people — the Jews — were immutably marked for total destruction."
As anger over the omission grew to a clamor this weekend, Trump spokesperson Hope Hicks attempted to do damage control, telling CNN that the Trump administration ignored the Jewish element of the Holocaust in its statement because other people were murdered, too.
"Despite what the media reports, we are an incredibly inclusive group and we took into account all of those who suffered," Hicks told the outlet Saturday. She also provided a link to a 2015 Huffington Post U.K. article that explores the ordeals of other groups the Nazis persecuted, including "gay people, priests, gypsies, people with mental or physical disabilities, communists, trade unionists, Jehovah's Witnesses, anarchists, Poles and other Slavic peoples, and resistance fighters." About 11 million people were killed in the Holocaust, and 6 million of them were Jewish.
So, did Trump refer to all of these simply as "innocent people" so as not to offend the non-Jewish victims of the state-sanctioned massacre? "It was our honor to issue a statement in remembrance of this important day," Hicks told CNN's Jake Tapper when he posed that question to her, employing a troubling evasion tactic that all but eliminates mentions of Adolf Hitler's goal, which was to inflict extinction upon the Jewish race.
Apart from the White House response, denying this fact is a common mantra among white nationalists, many of whom have excitedly embraced Trump and his "America First" mentality. And Trump's white nationalism is on full display in the midst of the ongoing massive fallout from his Friday executive order, which temporarily suspends the country's refugee program, bars Syrian refugees indefinitely, and prevents people from seven Muslim-majority countries from entering the country for 90 days. Outraged protesters demonstrating at airports across the nation included a couple in Philadelphia holding up a photo on their phones of Dutch teenager Anne Frank, whose family was denied entry to the United States and later died in Auschwitz.
While the omission of Jews from the official White House statement was symbolic and the executive order very much affects people's real lives (not to mention the integrity of this country), they work together to establish the Trump administration as one that will stop at nothing to staunch the flow of immigration, both in and out of the country, ultimately dehumanizing religious and racial minorities. Yes, Trump pledges in his Holocaust statement to pledge to "do everything in my power throughout my Presidency, and my life, to ensure that the forces of evil never again defeat the powers of good." But his actions after little more than a week of being president have now thrown that statement into question.